Spring Drama Preview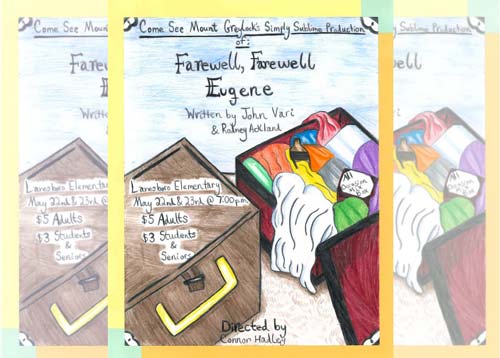 May 7, 2015
Filed under Arts
Hang on for a minute...we're trying to find some more stories you might like.
Mt. Greylock Regional High School's spring drama cast and crew will put on the comedy Farewell, Farewell Eugene at the Lanesborough Elementary School gym/auditorium stage on Friday May 22 and Saturday May 23 at 7 p.m. The play deals with two old ladies who are sisters, Minnie Povis Goody (played by junior Molly Wilson) and Gert Povis (played by junior Anya Sheldon), who run a greeting card business. The two try to raise enough money to go visit their brother who lives in Africa, but as they manage their company, many humorous complications arise, such as satirical problems with drinking, issues with their friends, problems with their niece and even a problem where a baby is anonymously dropped off at their door step.
Senior Connor Hadley directs the spring drama with help from Janean Laidlaw, the teacher advisor for the play. The cast includes nine principal roles, as well as an entourage of other minor characters, some from the original play, others written into production by the directors to give Greylock's production of Farewell, Farewell Eugene its own Mountie twist.
According to Hadley: "The production is going great. We've got a lot of potential. We've got a lot of up-and-coming stars. We've lost a lot of really great actors, but now we've got a lot of even greater people rising up to the occasion who haven't been able to play the bigger parts. We've got a lot of those kind of guys, which is nice."
Freshman Madison van Deurzen, who plays the role Peonie (cousin to the old ladies), said about the production that: "There are a lot of complications with their friends and their cousin and her boyfriend, and it's just crazy and funny."