"Deep down the hollow is what you promise me. All I can do is to follow"…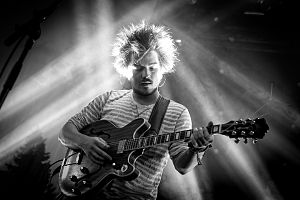 Hang on for a minute...we're trying to find some more stories you might like.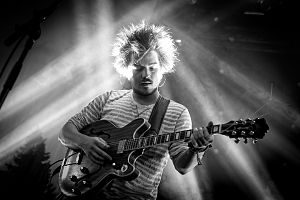 This past summer I arrived late to an album that has been getting airplay on independent stations for over a year, Milky Chance's Sadnecessary. Released in October 2013 the album did not make much headway in the US until 2014 when Milky Chance began playing sold-out shows and appeared on late-night with Jimmy Kimmel. USA Today wrote a favorable review in early October describing the German duo as a blend of folk, reggae, and jazz, and SPIN magazine picked Sadnecessary album of the week in mid-October. Noisey described the duo as combining house and electronic beats with reggae and R&B influences. None of this actually conveys Dausch and Rehbein's sound to my satisfaction. These descriptions fail to capture the real "flavor" of the sound similarly to how gourmet coffee roasters describe a house blend with food names and colors that have nothing to do with the actual taste of the brew; persimmon cherry mocha with a cinnamon finish. [Beyond merely piquing interest, what does that kind of description actually mean?] Wikipedia identifies Milky Chance as "Folktronica," which is more closely a descriptor, but not knowing any of the definitive albums listed in the genre, I find myself wanting a better category name.
While independent stations started playing Milky Chance late in 2014, the band had been gaining momentum in Europe on YouTube and SoundCloud for some time, and had developed a strong fan base all over the continent by early summer, 2014. Their first single has garnered over 150 million views. Winning awards in Germany, touring the US and Canada late in 2014, hitting venues like the Bowrey Ballroom in NYC and the House of Blue in Boston, Milkey Chance has worked hard to gain an audience for this first album.
Songs on Sadnecessary start with synthesized beats (predictable and nondescript, while at the same time, surprisingly thin and pleasant), adding clean, slightly growly vocals (in English) as a layer on top. The contrast of the vocals over the synth is nice, but it's in the the rhythms that sound like clean R&B rhythm guitar with a hint of a reggae-strum that really engage my ears. There is a hollowness about the sound that works, each song sounding much like the others on first listen, but becoming quite distinctive on subsequent listens. This album was a passing choice on my list in June, and has become a staple for me four months later.
"Sadnesessary", "Feathery", "Down by the River", and "Loveland" have all become more dear to me than the initial single that attracted me to the album, "Stolen Dance". The entire album needs to be listened to which is not something teens seem to do these days, but in this case, the tempo and pace of the album as presented works well. With nearly an hour of recorded material, Sadnecessary is quickly making it to my "best albums" of 2014.
Peter Niemeyer is faculty advisor for the Greylock Echo. His students allow him to write a review from time to time just to keep him happy.