Basketball Season Preview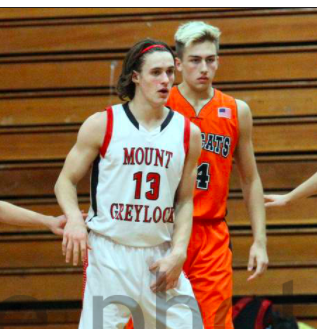 December 6, 2017
Filed under Sports
Hang on for a minute...we're trying to find some more stories you might like.
The Mount Greylock boys' and girls' basketball teams have started their respective seasons with vigor, and a strong hunger for success.
After a close and devastating 42-49 loss in the Western Mass finals last year the Mountie men ended the season with a winning record of 18-6. The team wants to build off the positives of the last campaign and look to make an even longer run in the postseason this winter. The boys accomplished big things last year. For example, this was the first team in 48 years that the team has made it to the finals. In addition, the team lost only two seniors last year which has left a determined, senior heavy team wanting more. This will be Bob Thistle's seventh year coaching the Mounties, and he has more than proved himself over the years. The captains of the team are seniors Sean McCormack, Sam Dills, and Brady Foel. Their goals for the team are to improve every single day and create an even more cohesive and communicative team than ever before.
Last year's season for the girls' basketball team was a tough one. The girls fought hard and ended the season with a winning record of 14-6 in the regular season. They had a huge win against PHS, who went on to win the division 2 mass title. Sadly, they lost 1000 point scorer Jenna Benzinger and fellow player Sarah Stripp. This season their goals include competing once again for a southern division title. They are led by Coach John Jacobbe, lone senior Lauren Howard, and junior co-captain Maddie Albert. There is a lot to look forward to in the upcoming months, so stay tuned to which goals become reality.