Call Me By Your Name Review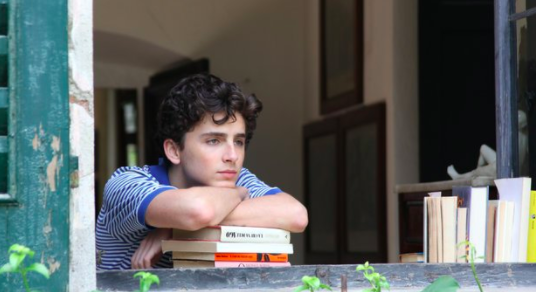 Hang on for a minute...we're trying to find some more stories you might like.
I saw the Oscar-nominated film for the first time during December break – a time when most people were bundled inside their houses while the temperatures dipped below zero. I feel like this was the perfect place to watch Call Me By Your Name, a movie that is so richly drenched in the feeling of summer that it makes you feel as though you, too, are spending a frivolous summer in the Italian countryside.
The movie follows Elio Perlman, the son of two professors who have somehow acquired a gigantic mansion in Italy. Elio is 17, it's the 80s, and he is simply there to transcribe music, walk around shirtless, speak French and Italian, and look sad and beautiful – something that comes extremely easy to actor Timothee Chalamet. Every summer, a student comes to stay at the mansion and study with Elio's father. This year, the student happens to be a handsome 30-year-old American named Oliver, played by Armie Hammer. Inevitably, Elio and Oliver grow closer over the summer, becoming far more than friends. The two actors share amazing chemistry, and with an original soundtrack by Sufjan Stevens, this movie is a beautiful tribute to homosexuality and the art of desire and affection.
While the relationships in the movie are beautiful, they can in no way match the setting that allows them to blossom. The movie is bright; filled with yellows, greens, and blues, there is rich art and architecture, lush fields and waterfalls, and dimly lit Italian streets that seem to be saturated with romanticism. And while the movie highlights a growing love between these characters, it also highlights an almost indescribable feeling – the feeling of summer. Elio constantly lounges around in nothing but his swimsuit, bikes into town whenever he pleases, and swims in the nearby river at night while the crickets chirp in the background. The family eats breakfast outside every morning and picks fresh peaches from their orchard. Their life is unattainable, but within it is a feeling that almost everyone can recognize. The eternity of summer – or what seems like it – is found when we first see Elio look down out of his window onto Oliver, and we see it lost when Elio realize Oliver must leave at some point. When we see the mansion in a winter setting, it is just not the same – that feeling is gone. That feeling is the backbone to Elio and Oliver's relationship, and as we are caught up in the feeling of an eternal summer, we realize their relationship is the same. In the moment, it feels eternal. It is Elio and Oliver, together, and it will stay that way forever. But it doesn't, and as viewers, we are not surprised. What is surprising is the air of freedom. Elio is not restricted by his parents, they have no issue with his sexuality and are supportive of it, even guiding him to take the steps to confess his feelings for Oliver. Their love is not forced to the surface by the air of secrecy; it is natural, and as viewers, seeing it grow is an experience to remember. The visual and emotional aspect combine to form a film that is a beautiful representation of the relationship between two men, and the way that it changes them both.