Students Walk Out to Make Change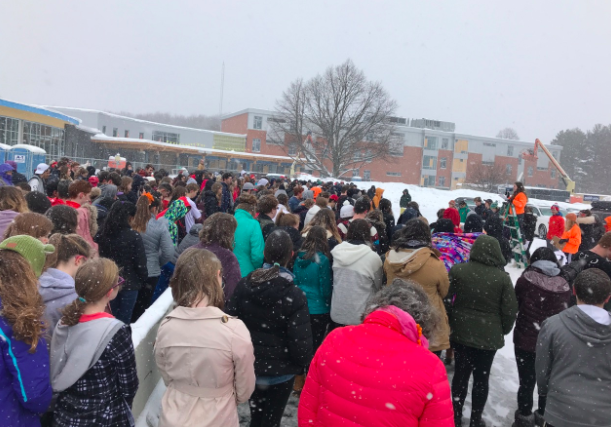 During the first four periods of Wednesday's school day, students attended classes like it was a usual day, did their work like it was a usual day, and took their tests like it was a usual day.
But at ten o'clock, hundreds of them walked out of the building and took part in the beginning of a movement. A usual day? For some, possibly. For others, most certainly not.
The 400 seventh through twelfth graders joined students from 2,800 schools across the nation in walking out of school for seventeen minutes. Students throughout all states were walking out for different reasons. Some were expressing an anger toward congressional inaction. Some were paying their respects to the seventeen victims of the Marjory Stoneman Douglas High School shooting. Some wished to tell the country that they wanted to go to school and feel safe. Regardless of their causes, participants of the Mount Greylock Walkout were bound by a community within their student body, but also by a community composed of hundreds of thousands of other kids, just like them, who wanted change.
Planning for the seventeen minute event started last month, when a small group of students began to spread the word about a Mount Greylock chapter of National Walkout Day through social media. As a youth-driven phenomenon, the movement, which has been marked by the hashtags #enough and #neveragain, has traveled from student to student largely through instagram, facebook, and other online media. A MGRHS walkout instagram as well as many walkout posts and stories pushed students to wear orange in support of the movement and to participate. Clearly, this worked. According to Maddy Art, one of the organizers, "we had no idea how many people would turn out, and we got 400, which is fantastic… it was so cool to see such a large presence and to see so many people caring and wanting to make change." For senior Maia Hirsch, "It was extremely rewarding to see that my classmates cared and wanted to participate. The actually walkout exceeded all expectations."
When the kids exited the building, student organizers presented a program full of heartbreaking messages. A line of students shared the touching stories of the teenagers and adults killed last month, reminding all that the victims were humans, kids just like us. Some of the audience felt  sorrow, some felt sympathy, and others were simply overwhelmed. Whatever shock was felt then grew as some of the organizers of the event, including juniors Sophie Jones and Karen McComish, shared painful statistics. McComish told her peers that "From 2013 to 2015, there was an average of two shootings per month in K through 12 schools." 302 shootings since 2013, as McComish explained, has left the nation waiting for change, and now was the time to seize it. Jones added that the tragedies have not landed on all Americans equally, stressing black Americans' higher risk of being targets of gun violence, referencing the horrific mass shooting at the gay Pulse Nightclub two years ago, and reminding others of the dangers to women of the presence of a gun in a relationship.
While Mount Greylock students were given an overload of horrifying information, they were also given hope and encouragement for the future. Art explained the importance of taking action, suggesting that students attend one of the marches taking place later this month, asking that they donate to organizations they support, reminding them to register to vote, and, importantly, encouraging them to speak out. Art told the crowd to "have conversations with people about gun violence and reform, even the difficult conversations. Especially the difficult conversations." With this in their minds, high schoolers left the building on Wednesday thinking many different thoughts. But they were all thinking.
Gun control has remained a largely partisan issue in politics lately. But speakers on Wednesday reminded their fellow students that the pursuit of safety does not have to be political. Art said afterwards that "we just wanted a lot of awareness, and wanted people to get involved that aren't necessarily always political. We didn't want it to be partisan, we wanted it to be about safety so it could be something that everyone could get involved in. It's pretty clear that everyone thinks that kids should be safe in schools."
Mount Greylock was fortunate enough to have a supportive administration backing up the walkout. Many students from many schools across the nation were told not to by teachers, and that there would be consequences. But "Mrs. MacDonald was extremely supportive and helpful in all the right ways," Art claims. Nevertheless, the walkout was driven by the force of students. "To know that we had made that happen," said Art, "was really gratifying."
One organizer, Maia Hirsch, is a senior and will not be at Greylock next year to see the movement grow. But being a part of the walkout certainly has left an impression on her. Hirsch explained that "the fact that I was able to join thousands of other passionate students from around the country was so empowering. I am normally nervous to speak in front of a class, let alone 400 people, but, as I stood outside in the snow and faced the crowd, I felt inspired. I was standing in solidarity with the victims of the Parkland shooting and fighting for common sense gun laws." Being part of the walkout has also given the senior hope for the future: "I am expecting change in politics. I know that it will take time, but I genuinely feel that change is coming."
As Art vocalized, Wednesday was not the end. A group of students is in the process of planning an activism club for next year and gatherings in which kids can get together and talk. "We want this to not be a one time thing. We want people to stay involved, so we can pursue it, and so we can actually make the change," Art explained. Whether the students that walked out of school last week did so because they wanted change or not, and whether they left ready to take action or not, most left with a realization that, whether they were going to take advantage of it or not, they were living in a time in which they had a voice. Seeing peers standing in the cold and calling for action has an impact on anyone with a beating heart.
About the Writer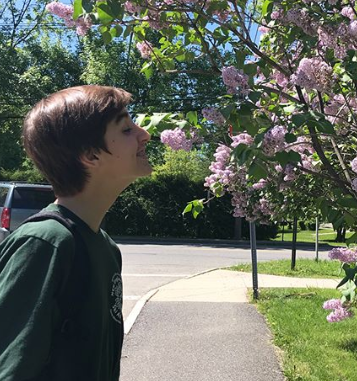 Owen Tucker-Smith, Editor-in-Chief
Owen has been on Echo staff for three years. When not writing, editing, and publishing stories, he can be found doing nerdy things (playing the piano,...