Review: Pera Mediterranean Bistro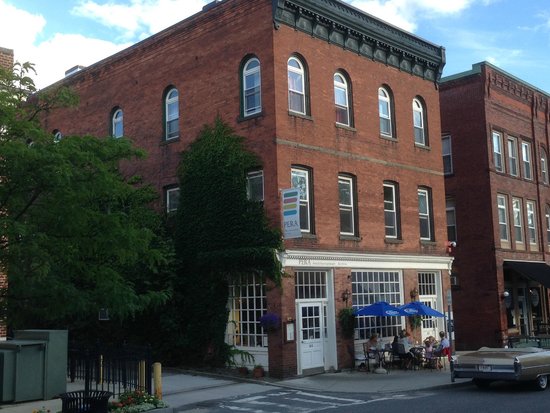 Hang on for a minute...we're trying to find some more stories you might like.
Pera is one of those places that is always right there in front of you, yet you rarely go. First opened in 2014, Pera is always an option for a high quality dinner in WIlliamstown. For some reason, however, my family always chooses to go somewhere else until just the other week. This was my second time at Pera, but first in a few years.
This restaurant adds in what Spring Street and Williamstown were missing: Mediterranean and Middle Eastern flair. As you walk in, it is very pleasant and cool, always a little chilly. One of my favorite parts is how the walls are adorned with local pictures. The food here is good – really good – and is a really nice switch because when I go out I usually end up ordering a burger. The food seems very fresh and is a nice big meal, yet you leave feeling light.
For appetizers I got Spanakopita and Labneh. Both were super great and something totally new for me. I had tried both before but this was the highest quality and freshest I had them. Spanakopita is an incredibly thin flaky crust with spinach and cheese inside. Labneh is a middle eastern dish that is like a thick yogurt and is served with olive oil and za'atar. Partnering with the Labneh are a few warm pillowy pieces of pita. We also ordered the Pera salad to start, which consisted of arugula, cranberries, goat cheese, and walnuts. Pera has so many options for your entree – you can choose from flatbreads, pastas, seafood, and meat. I decided to get Chicken Fra Diavolo. It was pasta with a perfect tomato sauce and a great amount of thick cut pieces of chicken. The sauce also had chili flakes, and turned out to be pretty spicy, but it worked perfectly with everything else. It was so good and filled me up fast. The only downside to this restaurant is the price. Everything is fairly expensive, definitely not the kind of place you go to daily. It is great for special occasions and family birthdays. It is far too expensive to go with your friends, for just those four were $47. Overall, it is an amazing restaurant that serves incredible food for just about anyone, but you cannot go without spending more than you thought. 9.1/10