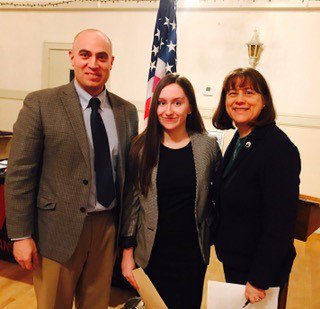 @MGMounties
Senior Katherine Wilson recently won the Veterans of Foreign War Voice of Democracy Contest. The Echo sat down with Wilson to discuss the award and her essay's inspiration.
Echo: Can you tell us a little bit about the VFW Voice of Democracy Award?
Wilson: The VFW (Veterans of Foreign War) is a national contest and each town in a county has a representative who chooses the best essay. The town winners all go to the county level and compete against each other. From there the number one winner in each county competes at the state level. The number one winner at the state level will then go to nationals. This year the choice topic was why our vote matters.
E: Why did you decide to enter?
W: I thought the topic was interesting and poignant for our time.
E: Could you briefly explain your answer to "why does my vote matter?"
W: I believe my vote matters because I was born in the United Arab Emirates which does not allow voting. I am also a dual citizen with the United Kingdom which has limited voting. To watch people not always utilize that opportunity [to vote] saddens me. Each of us has a voice and it's our duty to vote as Americans.
E: Were you a district winner?
W: Yes, I was the ninth district state winner and I was also the Berkshire county winner and the winner for the town of Lanesborough
E:What did you win?
W: I won over $1300 in college scholarships that will be applied towards my university.
E: How long have you been wanting to enter in this contest?
W: I've always been interested in politics but this year seeing the importance of the question I knew I had to enter.
E: How did you find out that you had won?
W: I was contacted by the commander for north county in Lanesborough. Then I was contacted by the commander from Berkshire county that I was the winner based on a panel of judges. And at the state level, I found out at a large banquet for county winners that I was the ninth district state winner down in the Boston area.
E: Do you plan to enter into any other contests similar to the VFW Voice of Democracy Award?
W: Yes I do. There are numerous essay contests that spark my interest.
E: What are your plans for next year?
W: I have been accepted at the University of Massachusetts Boston School of Management, with an undergraduate degree in management, alongside a concentration in accounting.
E: Do you know what you want to do as an occupation when you get out of college?
W: I will actively seek a position with a government agency or public private company in the Los Angeles area. My options are open but I think I would like to go onto graduate school most, like a graduate degree related to Business. Preferably an MBA.
E: Were there any particularly memorable elements of the VFW award experience?
W: I would like to say that I was very proud that our vice principal came to see me receive my award as he is a veteran of foreign war who has just returned home from Afghanistan.
E: Has winning the VFW Voice of Democracy Award changed or influenced your point of view of the world?
W: Absolutely – the VFW and its commitment to young people promoting democracy and a moral compass towards doing what is right will always influence who I am and who I will become.