Review: "Tootsie" on Broadway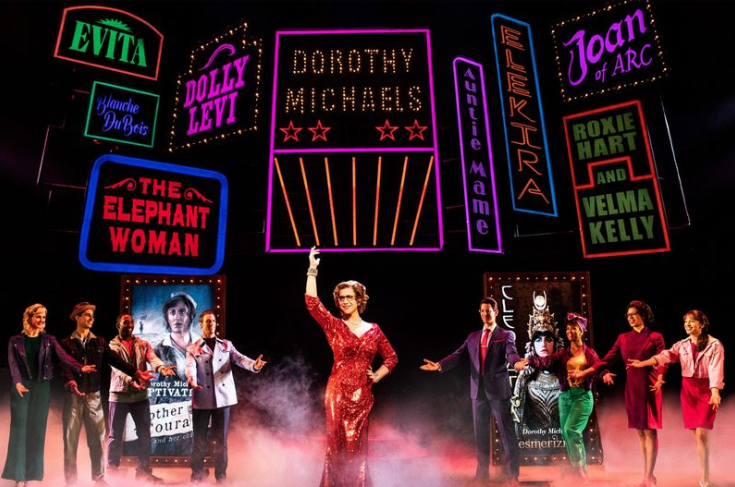 Tootsie, which opened on Broadway this Tuesday at the Marquis Theater, is a return and a departure at the same time. It's a return to that age-old disappearing genre, the "musical comedy," as well as a slight departure from its somewhat dated source material. It's a return to Broadway for composer and lyricist David Yazbek (Tony-winner for last year's glorious The Band's Visit), and a departure from television for script writer and comedy genius Robert Horn (Horn has only been on Broadway once before, with the book for Jason Robert Brown's 13).
The show is based on the 1982 Dustin Hoffman movie of the same title, with the same basic premise: struggling actor Michael Dorsey (the remarkable Santino Fontana, Hoffman in the movie), in a desperate attempt to get work, turns himself, with the aid of makeup, clothing, and a wig, into a woman, who he dubs Dorothy Michaels. The major difference here is that the setting has been transferred from the soap-opera world to Broadway, and into the present day: this gives the opportunity for that favorite of Broadway tropes, the show-within-a-show. The show in question here is Juliet's Curse, a sequel to Romeo and Juliet in which Juliet wakes from the dead and falls in love with Romeo's brother, Craig.
Against the urging of his friend Jeff (the fabulous Andy Grotelueschen, taking over the Bill Murray role), Dorothy lands a role in the show that his (/her/however-you're-thinking-about-this) frenetic ex Sandy (the ever-hilarious Sarah Stiles) attempts to get. Michael/Dorothy then has to deal with an unpredictable director (an equally unpredictable Reg Rogers), a somewhat batty producer (the wonderful Julie Halston), a love-struck co-star (John Behlmann), and falls in love with his/her female co-star, Julie (Lilli Cooper, taking over the Jessica Lange part from the film).
The cast is stellar (although I was quite disappointed that they cast brilliant Tony-winning actor Michael McGrath, and he doesn't get to sing once: he's barely onstage). Sarah Stiles consistently brings the house down, and as always, Santino Fontana, with brilliant comedic timing, is a pleasure to watch. John Behlmann was a surprising scene-stealer
Robert Horn's book is brilliant. A combination of one-liners, awkward situations, and absurd satirical critiques of both musical comedy and American culture work together to make the script, simply, work. The high stakes of the situation really play into the show: a certain Act II scene has Michael/Dorothy dealing with, all at the same time, the director creepily hitting on Dorothy and Julie, Sandy trying to reach Michael, Michael's agent having a play for him, the fact that Julie is having a sexual awakening realizing she has a crush on Dorothy, and that John Behlmann's character Max has fallen deeply in love with Dorothy, and gotten a full-size tattoo of her on his chest (he sings "She's made me an actor/And she's built like a tractor").
The music does its part: there's a combination of classic Broadway and 60's callbacks, with a few wonderful David Yazbek ballads, but nothing as utterly brilliant as "Omar Sharif" or the other show-stoppers from The Band's Visit. This isn't to say it isn't fun, though: it's catchy and toe-tapping, and brings to mind more early David Yazbek shows, such as his Women on the Verge of a Nervous Breakdown and The Full Monty. The lyrics are brilliant: an extremely smart and brilliant Act I patter song sung by Sarah Stiles brings to mind Sondheim and Sheldon Harnick.
All in all, the pluses outweigh the few minuses of Tootsie. It's a brilliant show, and definitely worth the watch.
About the Contributor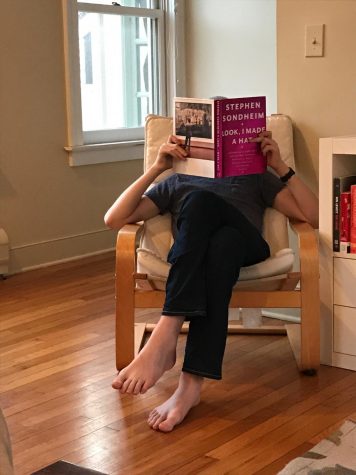 Sam Tucker-Smith, Staff Writer







Sam has been writing for the Echo for a year. When not writing his beautiful articles (and totally not missing his deadlines), you can...