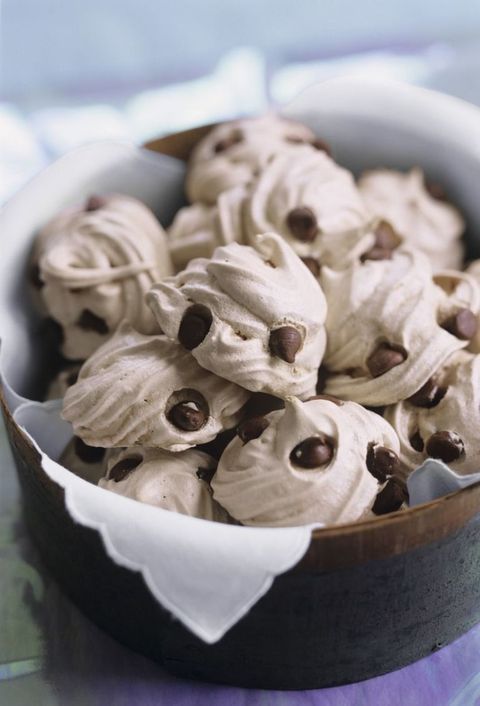 Welcome to the first edition of food fridays! This week, our staff writer Lucy McWeeny is bringing us a sweet treat to help get us through this quarantine. As someone who has tried this recipe for myself, I can vouch for their deliciousness. Their light and airy nature make them irresistible, and you'll find yourself sneaking 'just one more' when you swore you'd had your last bite.
Lucy's pick:
This recipe caught my eye as I was looking through "The Chocolate Deck," a box full of cards, each one with a different recipe involving chocolate. I've always wanted to make meringue, which is not for the faint of heart. Luckily, I came across this recipe for meringue cookies, which turns out to be far easier to make. You can whip up these cookies in no time, but be warned, they do have to bake for a while. You won't be disappointed with the final product: a mixture of meringue and cookie that comes together to form one delicious dessert.
Ingredients
3 large egg whites, at room temperature
¼ teaspoon cream of tartar
Pinch of salt
 ½ cup sugar
1 teaspoon vanilla
¾ Cup miniature Bittersweet or semisweet chocolate chips
¼ Cup cocoa nibs (Optional)
Directions
Position racks in upper and lower thirds of the oven and preheat it to 275 degrees Farenheight. Line 2 large baking sheets with parchment or wax paper.
Beat egg whites, cream of tartar, and salt with an electric mixer on medium-high speed in a large bowl until they form soft peaks. Add sugar about 1 tablespoon at a time, and continue beating just to stiff peaks. Beat in vanilla. Fold in chocolate chips and nibs, if using.
Drop batter by heaping tablespoonfuls on prepared sheets. Bake, switching positions of pans after 30 minutes, for 1 hour, or until meringues are light golden brown. Cool on sheets on wire racks for 10 minutes, then peel meringues off parchment paper and cool on racks.