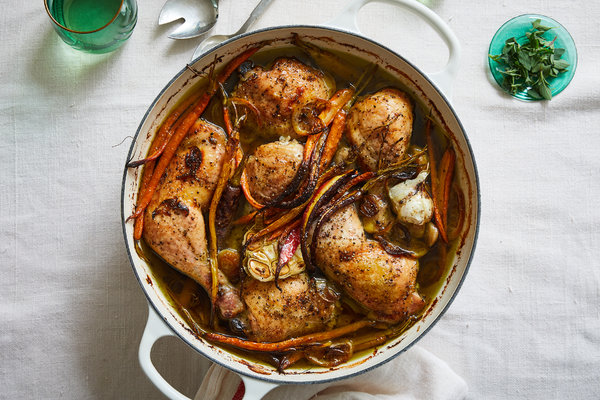 Welcome back to Food Friday — a few days late! But, better late than never, right? This week, I've decided to switch gears towards a more savory recipe. 
This one was in the NyTimes cooking section dedicated to one-pot cooking. My siblings and I cooked this chicken one night when we decided to make dinner ourselves. It proved to be simple and quick to prep, and turned out incredibly delicious. 
When cooked correctly the chicken will fall off the bone, tender and moist. Cooked in a large amount of olive oil, along with carrots, lemon, and garlic, everything ties together to form one delightfully flavorful dish. I know many people are  going to the store as few times as possible, which makes this chicken a perfect meal: you most likely have all the ingredients in your home already. Once done cooking, there will be quite a bit of olive oil left. Don't get rid of it! You can save the oil and use it for making other things you cook even more tasty, as the oil is now infused with delectable flavor.
Ingredients:
pounds whole chicken legs, or bone-in, skin-on drumsticks or thighs
 Kosher salt and black pepper
1 bunch small, thin carrots, preferably with their green tops
2 heads garlic, left unpeeled and halved crosswise to expose the cloves
1 lemon, thinly sliced, seeds removed
½ bunch oregano, plus more leaves, for garnish
1 cup olive oil
Directions:
Heat oven to 325 degrees. Season chicken with salt and pepper.
If the carrots have their green tops, trim them so that the stems are about 1/2- to 1-inch long. Save the greens for garnish or for use in salsa verde or pesto (They can be treated like parsley.)
Arrange chicken in a large shallow baking dish or shallow braising pot — about 2 1/2 to 3 quarts — so that the legs are snug and lying flat. Scatter garlic head halves, carrots, lemon slices and oregano sprigs among the chicken pieces, nestling everything in there. (It's O.K. if the carrots stick out a bit.) Pour the olive oil over the chicken and vegetables. (Yes, you're using all that oil! Don't worry, it can be repurposed; see Tip.) Season again with salt and pepper.
Place in the oven, uncovered, and roast until the chicken is so tender it nearly falls off the bone and the carrots and lemons are nicely caramelized, 55 to 65 minutes.
Remove from oven and let cool slightly. Divide chicken, vegetables and lemons among plates (or serve straight from the dish it was cooked in). Scatter with carrot tops, if you have them, and more oregano before eating. Reserve the leftover schmaltzy olive oil in the baking dish for another purpose.