Greylock Community Reacts to COVID-19 Outbreak: Updates and Angles
March 25, 2020
The Echo is committed to providing coverage of how the COVID-19 outbreak is impacting the Greylock community. Below you can find the stories we've written so far. Come back throughout the week for more.
Overview: Baker Closes MA Schools Until May
On March 13, Mount Greylock Regional School District closed for two weeks in order to help stop the spread of the Novel Coronavirus (COVID-19). A few days later, Massachusetts Governor Charlie Baker closed all schools until April 7. On March 25, Baker announced that all Massachusetts schools will be closed until May 4. 
Many students have been asking questions about the next steps for Mount Greylock, so the Echo talked to Principal MacDonald and Superintendent Grady to discuss these unknowns. 
When MacDonald was asked about the original decision to close for two weeks, she answered, "We're not a city, we're a rural district… we closed based on recommendations of local health authorities."
The superintendents of Berkshire County had a conference call on March 13 to discuss the issues surrounding our area. "We tried to do things collaboratively as a county," MacDonald said. 
Grady said she's on calls with the Berkshire County superintendents every other day, and the North County superintendents everyday. "We're monitoring things, we talk with the board of health. There are more cases in Berkshire county." 
The Massachusetts Department of Elementary and Secondary Education, or the DESE, put in a rule that only five days will be added to the original last day of school. In a FAQ document on the website, MGRS confirmed that the last day of school will be June 23. 
Another resource that the district has offered are Grab-and-Go lunches. These are available to anyone who needs them, not just students with accommodations at school. They are also prepared for senior citizens. 
In a recent email to freshmen, MacDonald asked students to make cards for senior citizens, because many of them don't have a way of getting in touch with other people. 
MacDonald stressed that anyone can make these, and they are a kind gesture towards people who don't have much company. 
The lunches are available at either elementary school rather than the high school, since these are more central locations within Williamstown and Lanesborough. They can also be delivered to houses. See the email from Superintendent Grady for more information. 
When asked about online work, Macdonald answered that they are "looking at the next stage." She said that the teachers are putting together quality work, but only about 35-40 percent of students are engaged in the online activities. "We don't know what the next step will look like… nothing's final," MacDonald said. 
She also said it's helpful that 8-12 graders have chromebooks, but they are still trying to figure out how to help the students without chromebooks or internet access. "We need to make it equitable for all students."
Grady stressed the same issue, but she said that her team is putting together a plan for distance learning. "We're working on trying to get a plan together," Grady said. "Many people are working long, tireless hours." 
"This is an unprecedented time," MacDonald said. "Rather than just throwing things together, we have to think carefully about what's going to happen." 
Another thing Grady noted was that she personally can't put out a plan for online learning. She has to take instructions from her commissioner, who is holding a meeting on March 26 to discuss more options for learning. 
After being asked how the decision will be made to reopen schools, Grady said, "We have to keep things out until it is entirely safe for everyone."
A meeting will take place tomorrow, March 26, for more announcements based on a remote learning strategy. 
On March 19, MacDonald sent out a letter to the seniors expressing her empathy for these students who are in their last year of highschool. She wrote that graduation would be pushed back a week, because there is a rule that this celebration cannot occur a certain amount of time before the last day of school. 
"And as we shift the date of graduation, we'll also shift the events that help to celebrate your accomplishments. Some events may look different from what you have planned now," Macdonald wrote. "But with your creativity and class spirit, I have no doubt that when you come together to celebrate, it will be magical and memory-making."
Another issue the senior class faced was their deposits in companies for their senior trip to Boston. Coach Jordan, senior class advisor, didn't want to risk not being able to refund this money later, so she communicated with the venues to reschedule and get possible refunds. 
For more information on any of the issues surrounding the pause of school due to COVID-19, go to the district's Coronavirus page at https://www.wlschools.org/page.cfm?p=1137, and MGRSD FAQs is on the right.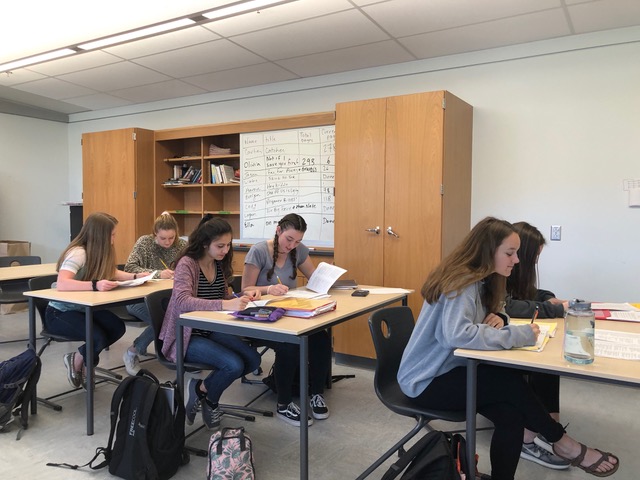 Photo courtesy of Maddy Art
Face-to-Face AP Exams Cancelled, Online Ones Offered on Optional Basis
On Friday, March 20, the College Board announced their response to COVID-19, and how the lack of school will affect students' preparedness for AP testing. 
The virus is dangerously contagious and has therefore caused nearly every school district to shut down due to the close contact that each student faces in their classes. 
Due to the fact that students are no longer being taught face to face by a teacher, the question of whether or not AP testing will still be administered come May has been rapidly circulating. 
On Friday, the College Board announced that due to the Coronavirus outbreak, it would not be safe to administer face to face AP Testing, nor would it be fair to students struggling to learn without remote learning. 
Nick Anderson, a writer for the Washington Post tweeted, "Breaking: College Board plans to offer 45-minute AP exams that can be taken online at home. To be fair to all students … the exam will only include topics and skills most AP teachers and students have already covered in class by early March" (@wpnick).
According to the College Board, "we surveyed 18,000 AP students and 91% indicated they want to complete this important step, urging us not to cancel this opportunity they have been working toward." 
Rather than entirely cancelling the exam, the College Board has decided to administer a 45 minute online exam for students, and it will only cover material that students should have covered by early March as a way to be fair to all students.
Jeffery Welch, a multi-subject AP teacher (European History and US History) is "intrigued" by the new format. 
"Three and a half hours always seemed a little inhumane to me," Welch said. "Forty-five minutes almost seems like too little and doesn't quite feel like enough to test your knowledge of European history."
Part of the format change includes a complete elimination of the multiple-choice section of the exam, due to concerns regarding student integrity and test security.
"With the new forty-five minute test," said sophomore Luca Hirsch, "I don't think it will adequately prepare me for future AP tests and it opens the door to testing on topics we may not have learned with our teacher."
"I think we should either have the tests the normal way or be able to opt out of our AP tests this year," Hirsch said, "because I didn't pay a lot of money for a substitute test that seems like an excuse for the college board to still collect their money."
On Monday, principal Mary Macdonald sent out an email to all Mount Greylock students saying that this year, the AP test would be optional for students. 
"I'm pretty bummed about it because we've all worked so hard this year and we're getting such a small test compared to last year," junior Will Starenko said. "I also don't think we should have to pay a dime. But it's better that they have a forty-five minute test than no test at all."
Another junior AP Student, Charlotte Sanford, expressed her concern towards the possibility of cheating. 
"It prevents a lot of the people who wouldn't cheat from potentially not having the same opportunity as someone who does cheat," Sanford said. "If you are putting work and effort in, you want to make sure that you get that out!"
Although there is concern about test security and cheating, the College Board has ensured that they "use a range of digital security tools and techniques, including plagiarism detection software, to protect the integrity of the exams." 
Despite the precautions that they are taking, there is always the possibility for students to overcome this and it is unclear how the College Board would be able to monitor students, especially because they will be working at home. They have not disclosed specifically which softwares they will be using to prevent plagiarism.
"While I applaud the College Board for working so diligently to create testing options that honor students' hard work all year long," said sophomore Mackenzie Sheehy, "I think it will be hard to achieve. There is no way to ensure that students have the ability to take the test securely or that they will still be inclined to take it."
Sheehy added that "students work hard to learn new skills — writing, examining documents, drawing broader connections, providing evidence that I'm not sure students will have the proper platform to display their mastery of these things."
When asked about how they might update their methods of teaching in regards to this unforeseen event, Welch said that "provided we can get back to it, I'd like to see if this crisis couldn't be turned into an opportunity. If the constraints of the exam are eased, we might be able to do something new and different as a class."
AP Statistics teacher Lucas Polidoro explained that he is planning on continuing to teach from a distance at a similar pace to what was done in school.
"I am planning on posting some modules on canvas along with some review materials for students," he said. "In addition, the new AP classroom is a great resource for review and practice for students."
In addition to the updated test, the College Board has also invested in a new method of learning for students to use while social distancing. They have put together a livestream schedule with free course review sessions for AP students. The schedule for these review sessions can be accessed here.
MIAA Postpones Start of Spring Sports Season
Note: the information and quotes in this story do not all reflect today's decision by the state to close schools until May. We will provide updates.
In an attempt to slow the spread of the worldwide coronavirus pandemic, schools in Massachusetts have closed for the next three weeks to help practice social distancing and flatten the curve of cases. However, this spells bad news for student-athletes, who were scheduled to start their spring sports seasons during the first week of the break. 
Initially, according to an email sent out to students by Mount Greylock Athletic Director Lindsay von Holtz, the spring season was pushed back two weeks with a start date of Monday, March 30th. Contests would have been able to begin on April 9th as a first possible date. 
However, after Governor Charlie Baker announced that state schools would close for three weeks, the MIAA met once more to take further steps to push back the spring season. The initial start date was decided to be April 27th at the earliest. They have voted to have the completion of the regular season and tournament games by June 20th at the latest. However, since this decision Baker announced that schools would be closed until May 4. The MIAA has not announced how this development will impact the spring sports season.
According to last week's rules, the first competition would not be allowed to occur until the seventh calendar day after the start of the 2020 spring season, meaning games or meets could not start until May 4th at the earliest. The maximum number of competitions allowed is 12 and the minimum number needed to participate in the tournament is 8 before the June 10th cut off date. Teams will not be allowed to play more than 3 contests per week. If the start date is postponed for any amount of time beyond April 27th, there will not be a postseason tournament.
In a letter to the student body, von Holtz said, "this, as well as the closure of school, was based on available information from numerous health agencies, in the best interest of our students, staff, and communities." She also added that "It is important for athletes and families to understand that with the adjusted start date, we are currently out-of-season." Coaches are not allowed to have any contact with returning or prospective players person-to-person, and the school is not allowing any students or coaches on campus as well to use any facilities. Von Holtz also said that "there should be no formal or informal team activities. A reminder that "Captain's Practices" are against MIAA rules and not sanctioned or condoned by Mount Greylock." 
Despite the season postponement, students and coaches alike are finding ways to stay positive. Girls lacrosse coach Jeff Stripp reached out to his players, saying, "first and foremost, I encourage you to stay safe, stay strong and stay connected." Coaches are emphasizing the importance of staying positive, while also stressing the importance of keeping a good routine, a healthy diet, and ample exercise to remain on track physically for whenever the season starts. Above all, coaches want their athletes to lean on each other during this difficult and confusing time. "When the future is uncertain-we need to rely on each other for support," Stripp said.
The student-athletes have mixed emotions regarding the postponement. While there is a fair share of disappointment, many athletes said they understand the precautions the MIAA is taking. Emma Sandstrom, a sophomore on Mount Greylock's track and field team, said, "I think that even though it's unfortunate, especially for the seniors, it was the right choice. If we were to continue playing sports, that would put a lot of people at risk given the current situation and especially with travel games, I think it would have been too risky. I'm bummed to not get a full track season, but I think all in all it was their best bet." Many students have been keeping themselves in shape and entertained during this time with online fitness regimens, while also taking inspiration from others posting videos of themselves. Sophomore track and field athlete Kate Swann said that "I also think that it is difficult to motivate yourself to work out when you are alone and there aren't people by your side to push you, but, again I think it is the right decision that we keep our distance. I have seen some fun ways that people have been staying connected through sports like virtual track meets where people find ways to do their events around the house, which always puts a smile on my face." 
Many athletes are also focused on the impact this postponement will have on the seniors. Senior girls lacrosse captain Brooke Phelps said, "when I first read the letter to the student-athletes, I was devastated. I, along with my teammates, have been working so hard in this offseason. I understand why they did it though. I know how scary this whole thing is. I know that many people are dying and they did what they had to do to keep everyone safe. We have to sacrifice our season for the safety of others. I love my team and I hope I get to have a last season with them."
A lot of the underclassmen have spoken up in support of their beloved seniors. Freshman track and field athlete Jane Skavlem said, "I feel particularly bad for the seniors missing the last season of their high school career." Freshman lacrosse player Ainsley Abel echoed Skavlem's sentiments, saying, "the seniors should get to play their senior season."
"Track is a big part of my life and something that I will continue to do as I attend college this coming year," senior Maddie Ross said. "This team is what built me into not only the athlete I am today but also the person I am today."
Other athletes mentioned that while they understood the need for safety, they didn't see the point in having such a big push back in the start date seeing as students could be back in school far before the revised start date if all goes as planned. 
"I think there is a greater chance of spreading the virus by being in school than playing limited contact sports like girls lacrosse and baseball, but I get how the MIAA is taking the precautions and trying to limit any contact with large groups of people," junior Carolyn Jones said. "I also believe they are following the lead of the NCAA and all of the colleges that cut their seasons and semesters short to prevent further spread." 
Anthony Welch, a sophomore baseball player, felt similar to Jones. Welch said, "of course as long as school is out sports should be as well, but the MIAA has moved the date back too far. I think the right decision would have been that as soon as schools come back into session we should have been practicing so that we could play as soon and as long as possible."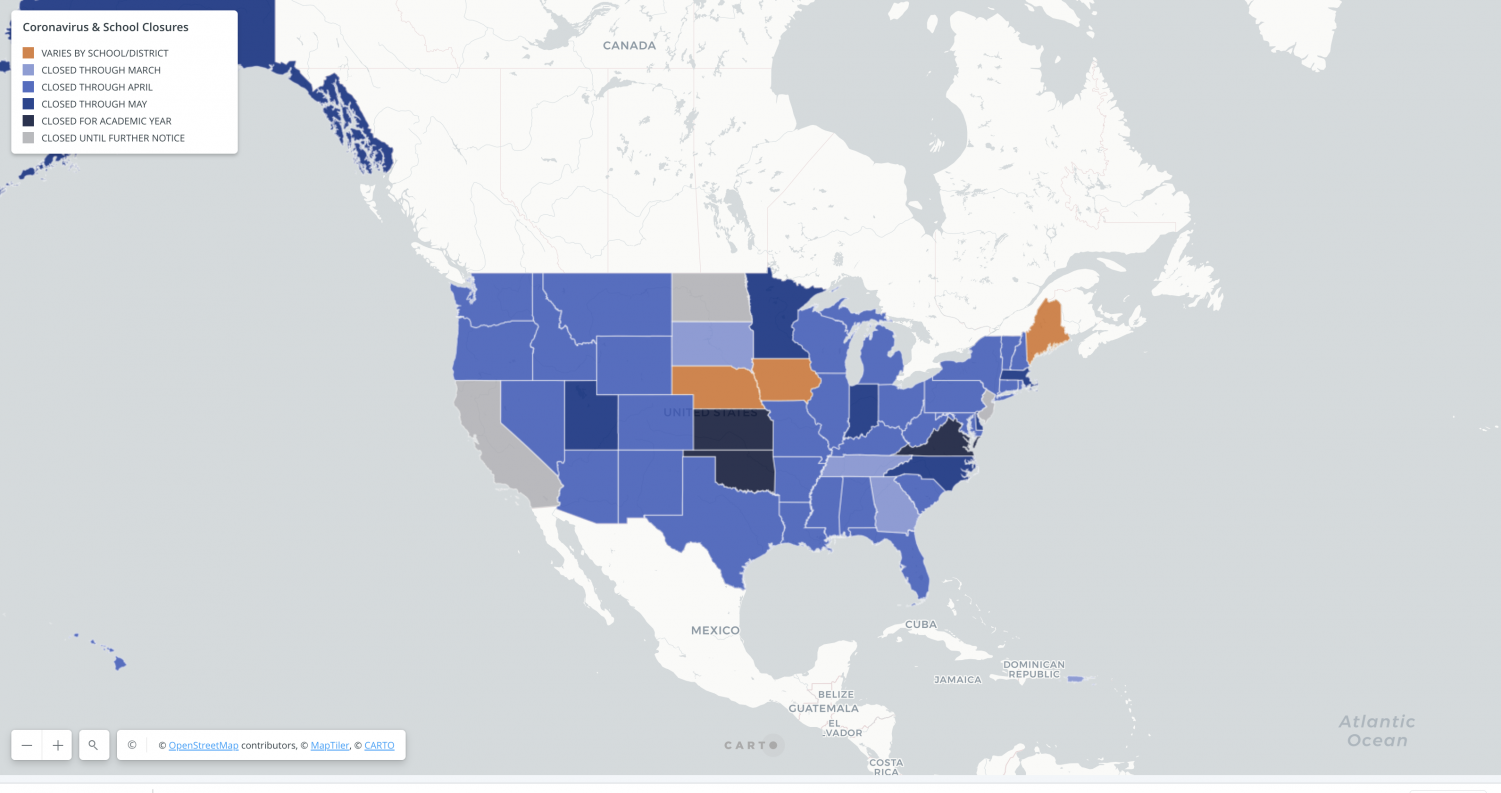 Photo courtesy of Education Week
Beyond Greylock
With the rapid expansion of coronavirus across the country, all schools are cancelled state-wide, except in Nebraska, Iowa, and Maine, where cancellations vary by district. Virginia, Oklahoma and Kansas have already announced the closure of schools for the rest of the academic year.  As reported by UNESCO, over 130 countries have implemented nationwide closures, affecting 80% of the worlds' students.
For many students, the closure of schools, sports, clubs, and uncertainty regarding graduation, prom, and other social events has dramatically shifted daily life, leaving many dispirited to say the least.  Lukas Nordstrom, a German student who visited Greylock last semester, said, "at first people were fine with it, though of course not happy with everything cancelled, but now people are starting to get a little aggravated because there is nothing to do."  At Lukas's school, teachers are posting assignments online, though there is no method to submit the finished work. He said, "the coronavirus forces German schools to digatalize and set up new technology which many schools are completely new to."
Jett Manchester, a highschool student in San Francisco explained people in California are under a shelter in place. "People have to social distance themselves and in San Francisco someone can get fined up to $400 for not social distancing," he said.  All work and school is closed, forcing families to work from home. The magnitude of San Francisco's situation is "due to the fact that San Francisco is a popular port for cruise ships; that's where it all started," said Manchester.
All over the world communities have implemented similar measures, such as social distancing, forcing the closure of schools, businesses, large gatherings, and travel. "We are all witnessing a crazy time in history that hopefully can bring us together," said a Greylock sophomore.
COVID Profiles, Part I: the Simpsons
With Mt. Greylock closed until May 4th, many students are looking for ways to remain occupied turning this temporary break. The Echo is writing profiles on students who are pursuing activities outside of the traditional school environment.  
While teachers have assigned optional work, Mt. Greylock has no "online schooling" as of right now. But freshman twins Jennah and Kiersten Simpson have taken matters into their own hands, pursuing their own daily homeschooling routine. "We just go through a regular school day, but at home," Kiersten said.
Kiersten also commented on why they decided to do this homeschooling. "Because my mom is an educator, she said that a big part of this for her was making sure that we didn't just lose all forms of education and lay around for the next however many weeks." 
Jennah said, "I really enjoy it because it keeps me busy, and takes my brain off of what's going on around me, in the way being at school would."
When asked if they were doing the assignments sent out by teachers or designing their own curriculum, Jennah said, "I would say a pretty healthy mix." 
Completing both the assignments sent out and other additional educational activities has helped the twins continue to learn, even out of school. She added, "We've been doing a lot of online stuff. Not so much in the English category, because my mom is actually an English teacher, so she's home with us doing that."
Each year Mount Greylock ninth graders are assigned a research project, which they are now working on at home.
Kiersten said, "In English we were doing our research project, so my sister and I are working on that while we're at home." 
In terms of math, Jennah says she has "mostly been doing my own thing, but with the way Grelyock is set up for math, that actually kind of works out anyways." 
When speaking on the benefits of homeschooling, Kiersten said, "I like still being able to learn while not being in the building." Although much of the work being done is online, having a schedule can help add some uniformity to the day, which many Greylock students may be craving. 
Although homeschooling has proven as a good way to keep busy during this break from school, it's not the perfect solution, and the Simpsons are still feeling the effects of the time off. 
"None of us are loving [the break], but it's very much a 'we need to get by for the next few weeks, might as well do this.'" Kiersten said.
When asked if the structure of homeschooling had helped her stay on top of schoolwork, and stay in the "student" frame of mind, Kiersten said, "I think it has and it hasn't. It hasn't in the way that because I'm only a week or so in, it feels very abnormal to me." 
Some of the educational activities the twins pursue outside of school include planting seeds and completing activities related to the arts. Jennah said, "My mom is a very big advocate for the arts, so we have a forty-five minute  art period where we can just kind of do whatever." 
The Simpson twins are making the most of their time off, using the ample free time each day brings to continue to learn. If you or anyone you know are utilizing this break to undertake stimulating hobbies and activities, please send us an email at mountgreylockecho@gmail.com.