Girls in the Classroom
A deeper look at the learning experience for women at Greylock
April 29, 2019
"That's a man's question, a girl wouldn't understand," Camilla's* teacher told her when she raised her hand to answer a question about World War II machinery. Instead, the teacher called on a boy whose hand was not raised and who did not know the answer, because, in the teacher's words, "it's like heavy metal, it's like a guy thing." Eventually, the teacher allowed Camilla to answer the question, which she did correctly. Camilla related the teacher's response, saying, "he goes 'Oh, that's new. You're a heavy metal girl,' and I was like 'I just read the chapter.'" Camilla felt that the teacher was reinforcing, perpetuating, and drawing from harmful stereotypes in creating expectations for what types of questions girls can answer.

Mount Greylock is frequently exalted as an exceptionally progressive school: a place in which girls feel empowered and boys are respectful. Over the past few months, the Echo wanted to discover whether this description matches the experiences of the girls at Mount Greylock, so, in this series of features, the Echo is delving into the female experience at Mount Greylock. Part one is a look at whether, when, and how girls feel their classroom life deviates from that of their male peers. Subsequent pieces will examine similar trends in athletics, in the hallways, and online.
In addition to conducting interviews, the Echo surveyed girls at Mount Greylock to reach as many voices as possible. The surveys were anonymous and asked whether respondents feel like they have been treated differently in the classroom as a result of stereotypes about their gender. Space was given to elaborate if desired. Of the seventy responses, thirty-eight checked yes and thirty-two checked no, warranting a closer look at the classroom culture.
The girls who were interviewed and who responded to the survey tended to agree that the bulk of the discrepancies between female and male academic experiences stem from the patterns of teachers' tendencies, both subconscious and intentional.
Several girls spoke of feeling that their academic voices are less coveted than their male peers: junior Nicole Overbaugh explained that she believes teachers "have a tendency to answer more questions from and focus more on [boys] than they do the females."
Senior Rachel Bisson shared this sentiment, but said that not all boys receive disproportionate attention. Instead, in her eyes, "there is a group of boys that has been favored…especially in STEM classes." In speaking of this group, Bisson elaborated that "they're certainly called on more in class; I think their opinion is valued more by a lot of our teachers, especially in discussion-based classes." Further, she felt like teachers were more willing to extend deadlines for them, while she "missed class to have heart surgery last year and was expected to come back essay-in-hand."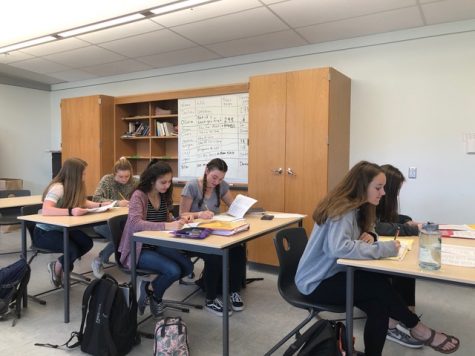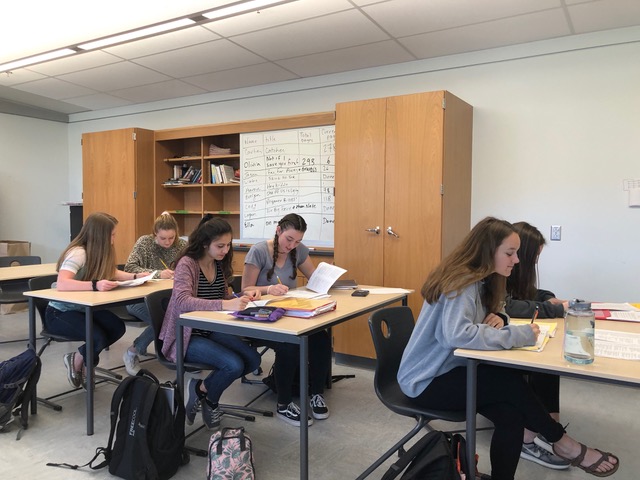 In addition, respondents divulged that they found teachers more likely to bond with boys than girls. One wrote that, in the classroom, "it's easier to be funny… and easier to be heard and understood if you're a guy." Feeling this way is more than a mere annoyance to students; it can affect their academic confidence and sense of self-worth. One survey respondent confided that one of her previous teachers "always tried to bond with football boys in the classroom. As an underclassman girl already intimidated by math, adding in this layer added to my feelings that the math classroom is not a place I belong."
Girls interviewed also spoke on teachers exacerbating the difference between girls and boys physically, which they felt contributed to an atmosphere of sexism in the classroom. One survey respondent wrote, "teachers have asked boys to lift heavy boxes because they are seen as 'stronger,'" while another elaborated, saying "teachers ask boys to do physical tasks – putting up chairs/getting books." While boys are, scientifically speaking, generally stronger than girls, many respondents felt that they were just as capable of doing those tasks around the classroom. Teachers bringing stereotypical household norms into the classroom made them feel less important.
Camilla also told of a specific incident that occurred after a lockdown drill. She described the teacher taking the boys to the window and teaching them how to break the windows "because that's a guy thing." Camilla said, "'shouldn't we all be learning how to break the window? Because I don't really think that has a gender.'" Many of those interviewed felt that, by assigning boys with physical tasks, teachers were extending stereotypes about genders and locking people into those norms. These students believe on how the classroom should be a safe space where stereotypes do not belong.
Many of the girls interviewed spoke to sexism coming from their male counterparts in the classroom as opposed to their teachers. Senior Clare Sheedy said, "I think I've experienced [sexism] more with the male students in the classroom than with teachers." Another student echoed this sentiment on the survey, saying that sexism in the classroom atmosphere comes "More so [from] male students than teachers."
"
I think I've experienced [sexism] more with the male students in the classroom than with teachers.
— Clare Sheedy
Some comments on the survey addressed the attitude in the classroom when girls would speak up or have knowledge on a certain subject. One student wrote that "other students have sometimes talked to me in a condescending way when I have as much knowledge on a subject as they do." Frequently, girls said that some boys in the classroom view girls as "bossy" if they speak their mind or don't take them seriously when they share their thoughts in class.
Certainly, not all girls felt that they have experienced gender discrimination in the Mount Greylock classrooms. Senior Shaelyn Roberts said that, in her experience, "everyone is included the same way" in her classes. Some students said that Mount Greylock is better off than other high schools: one respondent answered that she hadn't faced discrimination, but "[has] friends and  [female] cousins… who often feel like they shouldn't speak up to avoid seeming bossy." Several surveyed emphasized this train of thought, commenting on how did not feel they have faced the discrimination that they have heard of students at other schools facing.
Some students feel that the comparatively accepting culture at Mount Greylock is partially attributable to the prominent female leaders in the community and not necessarily the progressivity of the men. Rachel Bisson explained that she felt valued by her peers in the classroom, particularly because "we have a lot of really strong women in our class…I think [that] has helped a lot."
In fact, many of the girls shared that they feel their gender puts them at an advantage in the classroom. Sophomore Fiona Williams explained that "I feel like some teachers have a tendency to assume that girls are automatically smarter or more mature than their male classmates, whether that is subconsciously or not."
One respondent confessed that "I've often been favored positively because some teachers, on the basis of typical stereotypes, assume girls may or may not be smarter than boys," while another wrote of a teacher who "will often discriminate against the boys in our class for being loud but girls are loud too."
While Senior Mackenzie Rathburn didn't feel that her classroom experience has been different than the boys in her classes, she did explain that it feels like girls are "held to higher expectations."
Students also elaborated on how society in general influences teachers and peers actions in the classroom. Much of the treatment that girls found discriminatory is subconscious, stemming from deeper issues within society. Chloe* noted quotes hanging on the walls in one of her classrooms. Out of thirty-two quotes, only two came from female figures. Chloe agreed that the teacher "found really great quotes," but found it demoralizing "to see quotes that are supposed to be really inspiring and to have only 1/16 be from women."
"
I've often been favored positively because some teachers, on the basis of typical stereotypes, assume girls may or may not be smarter than boys.
— Survey respondent
Chloe was clear to say that the teacher meant absolutely no harm and probably did not notice. Likely, she speculated, the discrepancy in voices on the walls is related to the fact that there simply have not been as many women in positions of power, meaning that fewer prominent quotes are from women. "I notice," Chloe said. "Probably no one else notices."
Similarly, a few girls spoke of a teacher who calls male students by their names but calls female students things like "sweetie" or "darling," making the girls feel uncomfortable. Likely, the teacher is not intentionally referring to the girls in demeaning way; this tendency is common, extending beyond one teacher. In the wider world, too, any similar pet names for boys or men are used much less frequently.
The conversation regarding gender and learning environment is not new, and it will likely continue. But one thing's for sure: people are talking, and they're not all happy.
* names marked with an asterisk have been changed to protect students' identities.