March Heath Screenings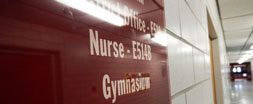 Hang on for a minute...we're trying to find some more stories you might like.
In March, Mt. Greylock conducted a recording of the weight, height, eye and ear accuracy of students in Grades 7 and 10.  These grades are recognized by the Massachusetts Department of Public Health (DPH) as being important times of growth and the results will influence how Mt. Greylock views the well-being of the student body. The main objective of the study is to educate parents and students about nutritious eating and maintaining a healthy body. This starts with one's BMI, or the Body Mass Index, which is a measurement of your body weight compared to your height and others of similar age and gender. These results can identify any weight issues within the community and can be a catalyst for further measures taken by the school to ensure a healthier building. Nurse Russell commented about the future of Greylock's health curriculum, "[We will] encourage students to eat plenty of fruits and vegetables, whole, grains, lean meats and fish, and low-fat or non-fat milk, limit foods high in sugar and fat, and encouraging them to increase their physical activity will have a positive effect".