Greylock Bullying PSA Wins 1st Place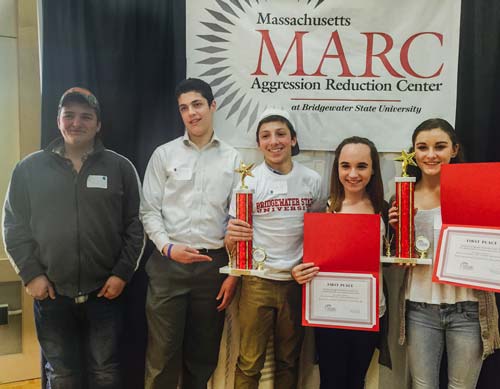 Hang on for a minute...we're trying to find some more stories you might like.
As the season of summer block-busters begins, the Echo interviewed some of Greylock's own award-winning moviemakers; three students who went to Bridgewater State University in Bridgewater, Massachusetts to present an anti-bullying PSA video that they had created early last month. Those three students, freshman Christian Markovic, freshman Jude Rorke, and freshman Nick Carnevale, won first place for their project. Markovic, a ninth grade student, played the victim during most of the video, and the group split the role of cameraman between themselves. Markovic, describing the video, says, "it basically shows different things that can happen in schools bullying wise. (In the video) other people try to protect those people (the victims) and help them out." He went on to say that in the video they made a Facebook support page to help bullied students at Mt. Greylock.
The group worked on their video project for about two months, from late November to the end of January. The video editing teacher, Michael Powers, assigned the topic of anti-bullying to them.
Each year, video editing students from Mt. Greylock take part in a statewide competition to make the best anti-bullying PSA. Most years, students from Mt. Greylock make it to the finals, but cannot easily travel to the awards ceremony. Thanks to one of the parents of the trio, the students managed to go to Bridgewater to accept their first place prize.
Markovic told to The Echo about the enjoyability of the project, stating that he, "had fun during the project. It was cool roaming the school to get the video taped. Seeing other people's videos was cool too. You got to see a bunch of videos from all over Massachusetts, people you've never known before, and so you see all different takes on anti-bullying." Hopefully, next year more students from Mt. Greylock will have the wonderful opportunity that this group of productive students had.
The winning videos can be viewed on the MGRHS website.