P.A.L.S. Program Fosters Lasting Friendships
October 6, 2015
Filed under News
Hang on for a minute...we're trying to find some more stories you might like.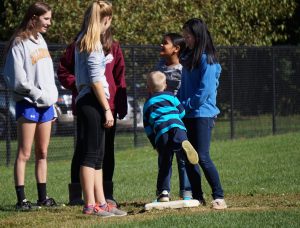 On Sunday, September 27th, at 2:00 PM, sixteen Mt. Greylock upperclassmen met at Williamstown Elementary School to play kickball with young Williamstown students with special needs as part of the new Promoting Acceptance and Learning Through Sports Program, abbreviated P.A.L.S. Organized by local parent, Donna Narey, the P.A.L.S. Program provides an atmosphere in which "students with special needs can form close relationships with high school students in a low key, stress-free setting."
Narey hopes that the P.A.L.S. Program will achieve similar successes to those of the Best Buddies Program, a national program that operates in cities such as Pittsfield, MA. According to the Best Buddies Massachusetts website, programs like P.A.L.S. and Best Buddies allow participants to "cross the invisible line that too often separates those with disabilities from those without."
The first round of the P.A.L.S. Program, which consists of games of kickball, includes three more meetings of on Sunday, October 18th, 25th, and November 1st. Narey plans to run three more five-week rounds of activities later this year, two of which will be sessions of swimming at the North Adams YMCA in early winter followed by games of bowling at Greylock Bowl and Golf before the start of spring.
Lindsey von Holtz, Mt. Greylock's director of athletics and co-curricular activities, helped organize the high schoolers' participation in P.A.L.S. Program. She said, "The goal is to create opportunities for learning, friendships, and memories for both the young students and the high school students." Von Holtz added, "Anyone who is interested in joining one of the remaining sessions should come see me in the Main Office to join the email list."