Hangar Scheduled for Demolition
October 14, 2015
Filed under News
Hang on for a minute...we're trying to find some more stories you might like.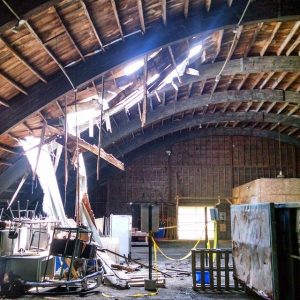 The Mt. Greylock Facilities Staff scheduled the retired airport hangar on the southeast side of the school grounds for demolition during the week of October 19th. The facilities staff decided to take down the hangar at the beginning of the year, after calculating the tentative costs of a renovation versus those of a new construction. A renovation of the building, which lost part of its roof due to snow buildup this past winter, would initially cost almost $145,000 and would require additional expensive tune-ups every few years. To keep the building up, the school would need to replace the current roof with a new one of a much sturdier material. According to facilities supervisor Jesse Wirtes, "it's nice to try to keep the hangar, but that kind of money [needed for a renovation] could buy us a good, solid building for equipment."
In recent years, The facilities staff has utilized the hangar space mainly for storing lawn equipment and athletic nets and goals. Mr. Wirtes points out that the school is in the middle of a renovation project, so with the impending destruction of the hangar, the facilities staff is in a "sort of limbo." The equipment will likely be stored in tents and under tarps in the interim between the demolition of the current storage shed and the construction of a new one.
For decades, the boys' and girls' nordic skiing teams have used area in the hangar for ski-waxing. This winter, the teams hope to maintain the long-standing tradition of waxing every Friday before weekend races, at a different site. Currently, the teams are planning to start waxing in the greenhouse this season, though the idea of a new specifically-constructed shed has also been mentioned. Senior skier Ellie Williams commented on the change of venue: "It will be sad since we've been in the hangar for so long, but we have to make do with what we have."
Click for the related story about the hanger by Sam Swoap from 2014. (Page 4)
Click for a story on the history of the hanger by Aaron Kleiner from 2013. (Page 5)