Eighth Graders Debate At Williams College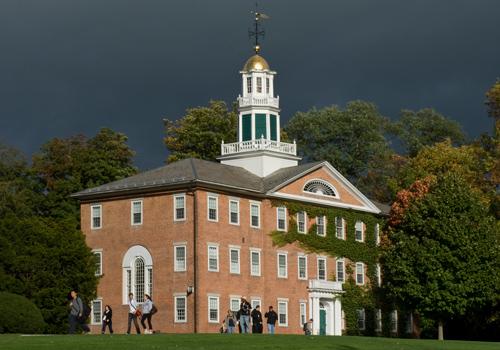 January 18, 2017
Filed under News
Hang on for a minute...we're trying to find some more stories you might like.
On Tuesday, December 20th,and Wednesday, December 21st, Mt. Greylock 8th graders gathered for their annual debates on various various constitutional topics. The debates were held in Williams College's Griffith Hall because of the current construction at the high school.
This year, many of the debate topics were similar to those last year, which include the constitutionality of the death penalty, gun control, the Equal Rights Amendment, hate speech, and more. However, a different topic was brought back this year due to popular demand: the Electoral College. This year, according to History Teacher Patrick Blackman, "current events pushed students to have more interest in… the electoral college."
The new setting for the debates also provided for a different experience for the debaters. Griffin Hall in Williams College gave the students an elegant and a formal environment to read and hear their peers' speeches in. As Blackman put it before the debates, "Griffin Hall will help provide an air of formality that will help make the experience unique for the 8th graders."
As usual, the 8th graders were able to dive deep into their topics. 8th grader Oscar Low said that the most interesting part of the process was "gathering information… I didn't know a lot about my topic, the electoral college, and with everything happening in the election, I learned so much more." Low's peer Gabe Gerry agreed, stating that the project "allowed me to learn everything about my topic." But the project does not seem to provide the students with a one month experience, but a more extended one. Low stated that "this project will encourage me to follow my topic as the the years go on." Overall, this year's debates provided for a fun, interesting, and unique experiences for Mt. Greylock's 8th graders as it has for many years.