Women March For Protection of Rights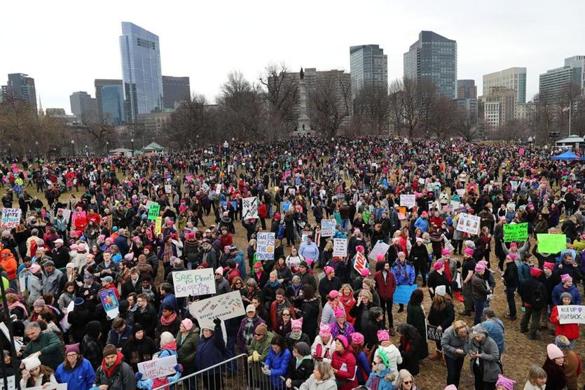 Hang on for a minute...we're trying to find some more stories you might like.
Following the presidential election of Donald Trump, women all over the country and the world used their right of free speech to protest some of the new president's proposed policies. In Washington D.C. alone, there were about 470,000 individuals who participated in the march. According to the New York Times, there were approximately three times the amount of people that attended this march than the inauguration the day before.
The purpose, according to the official Women's March on Washington's website, was to "join in diversity to show our presence in numbers too great to ignore." Many members of the MGRHS community participated in one of the marches.
When interviewed, Greylock freshman Maddy Art talked about her experience at the march in Boston.
"I thought the turnout was remarkable," she said, "it was all very positive and it was great to be surrounded by people with the same beliefs."
It seems the march was mostly about uniting in diversity, and trying to recognize all human rights.
Marchers carried signs, some advocating for women's rights, immigrant rights, Muslim rights; some were protesting the ideas of Donald Trump. "Love Trumps hate" was a common sign seen all over the country, as well as "Women's rights are human rights."  The Washington Post wrote, "The march platform focused on issues such as workers' rights, reproductive rights, environmental justice, immigrant rights, ending violence against women and more."
In Boston, speakers included Senator Elizabeth Warren, Mayor of Boston Martin J. Walsh, and NAACP President Tanisha M. Sullivan.
The Official Women's March Website provides writing about their mission, and it seems the march was not a one and done deal. It will likely become an ongoing movement, and these women do not plan on quieting down any time soon. Art and other members of the Greylock community are supporters of the movement and are planning to continue their support.