Robotics Team Gears Up for Year Two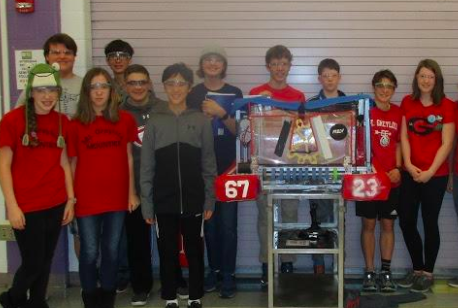 While winter athletes are training through their first weeks of competition and actors are frantically memorizing lines for the school musical, there's another group of Mount Greylock students that is gearing up for their season: the robotics club. Before last year, this group did not exist, but within just a few months, the team grew to the size of ten students, and ended up winning an award at one of their first competitions. Needless to say, the group is full of talent, and is excited to enter their second year of competition with new members and last year's experience under their belts.
The Mount Greylock team, formerly called "Team Redbot," didn't go into the year completely blind; new student Brandon Fahlenkamp, whose family helped start the club at Greylock, had participated in the same program at his old school. However, doing it here, according to Fahlenkamp, turned out to be challenging in different ways, because "The team size was much bigger [in Alexandria], which meant that the students could specialize more instead of do a little of everything like we do at Greylock."
The team participates in the FIRST Robotics league, which, as Fahlenkamp explains, challenges high school students "to raise funds, build, and program a robot that adheres to a very strict set of rules." Teams participating have a preparation period of only six weeks; a new competition is released every year, and after the six weeks, competitions in a variety of locations take place. Last year, Team Redbot did get a chance to compete twice. One competition was at the Worchester Polytechnic Institute, and the second was in Hartford, Connecticut. The purpose of these events for the Mount Greylock team was more to be introduced to competition than to be seriously competitive.
This year, the team was able to get their hands on a head start to their season. Although the game for 2018 had not yet been released, Team Redbot was able to attend an informal "scrimmage" type event in which teams followed last year's rules. This laid back atmosphere allowed them to get back into the rhythm of robotics and let the many seventh graders on the team get a feel for the sport. However, although Greylock did not necessarily go to the competition to win, they ended up doing very well. Fahlenkamp states that "We were alliance captains for the first time and our alliance made it to the semi finals where we lost to the team that won the whole event."
This season, Mt. Greylock's "Team Redbot" is clearly ready to build upon last season and their pre-season success to be successful. The crew is led by senior captain John Werner. Additionally, many of the team members are middle schoolers, and the rest, with the exception being Werner, are sophomores and freshmen; these demographics bode well for future years of Greylock robotics. The team is excited to return to the fairly serious competition at Worchester Polytechnic Institute and one in Waterbury, Connecticut. With their young talent, Team Redbot is poised to be a significant threat to other teams at the FIRST robotics competitions this Spring.
About the Writer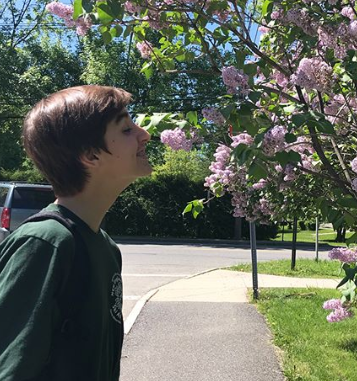 Owen Tucker-Smith, Editor-in-Chief
Owen has been on Echo staff for three years. When not writing, editing, and publishing stories, he can be found doing nerdy things (playing the piano,...