Mountie Skiers Dominate on Home Course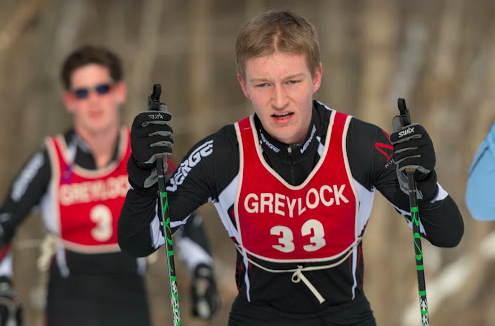 January 25, 2018
Filed under Sports
Hang on for a minute...we're trying to find some more stories you might like.
The classic ski season is now underway, after the first classic race of the season was held at Mt. Greylock this Saturday. The snow barely managed to hold through the warm temperatures, which made for comfortable weather, but difficult ski wax conditions. Skiers from ten different schools were present, and over 180 athletes competed. Varsity and junior varsity races were held over a grueling 6 kilometer course.
The first race of the day, the boys' varsity, got underway with testing snow conditions that only got worse. However, the Mt. Greylock Mounties battled through, taking not only the team win but also the individual win. Junior Jakin Miller claimed first place, finishing in 21:13. Not far behind him was second place teammate senior Ric Donati, who, in 21:27, just edged out third place finisher Adam Carlisle from Northfield Mount-Hermon (21:28). At the end of the race the Mount Greylock boys dominated, taking five out of the top ten places.
The Mount Greylock girls' varsity fared even better, taking first place overall and the individual winner. Sophomore Brandi Gill took first place in 26:29, comfortably ahead of teammate Helen Greenfield, who claimed second place in a time of 27:02. The girls also claimed third place with Lainey Gill (younger sister of Brandi Gill), who finished in 27:45, and continued their strong showing by taking seven out of the top ten.
The team also dominated at the junior varsity level, taking nine of the top ten in the boys' JV and eight out of the top ten in the girls' JV. The Mounties will ski again this Saturday at Mohawk High School in a skate race.