Once Upon A Mattress Preview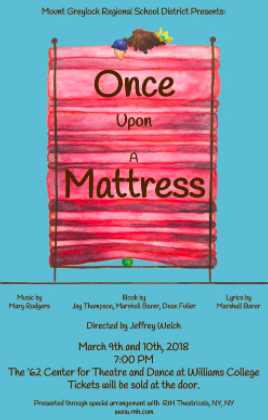 Hang on for a minute...we're trying to find some more stories you might like.
On March 9 and 10 at 7:00 PM, Mt. Greylock will put on its annual school musical, Once Upon a Mattress, at the '62 Center for Theatre and Dance at Williams College. The performance involves students in grades seven through twelve as actors, singers, dancers, technicians, and musicians. Once Upon a Mattress is a musical version of the classic fairy tale, The Princess and the Pea. The Minstrel narrates the story of a "kingdom ruled over by a talkative Queen and a mute King." In the kingdom, no one may get married until the Prince Dauntless gets married. For every princess that hopes to marry Dauntless, the Queen devises a test that is impossible to pass. The people have nearly given up after the twelfth princess fails the test until the knight Sir Harry brings the Princess Winnifred to the kingdom, hoping she will pass the test so that Harry can marry the Lady Larken. Mt. Greylock's performance features freshman Victoria Melkonyan as the Minstrel, sophomore Ashtyn Faas as the Queen, senior Sabrina Templeton as the King, freshman Finn Ellingwood as Dauntless, junior Izzy Nicastro as Princess Number Twelve, senior Jacob Hane as Sir Harry, freshman Ruth Weaver as Winnifred, and senior Cedar Keyes as Lady Larken. Other characters include the Wizard (junior Morgan Nottke), the Jester (seventh grader Sam Tucker-Smith), and a large ensemble of knights, ladies, dancers, birds, and members of the castle staff. Led by director and Mt. Greylock history teacher Jeffrey Welch, vocal director Jean Kirsch, choreographer and band teacher Lyndon Moors, Once Upon a Mattress promises to be a memorable show that you will not want to miss.