Skiers Dominant in Early Races
Hang on for a minute...we're trying to find some more stories you might like.
With a winter without much snow so far, both the boys' and girls' cross country ski teams' seasons have been off to a good start. The teams have had three official races so far, along with one unofficial, which took place on the 15th, all of which had great outcomes. The race on the 15th was a practice race, so even though both teams won, the results were unofficial.
Both teams find the snow's absence to be a challenge, but senior captain Ella Dudley said, "there are always ways to work around it. We travel to Prospect Mountain once a week, go on runs, and do a lot of lifting. We also typically go roller skiing, but we haven't yet this season."
For the boys' first official race, senior captain Jakin Miller came in second with a time of 13:03, only one second behind a skier from Lenox. In third was sophomore Col McDermott with a time of 13:25. As for their second race, the top three were all Mt. Greylock athletes: Jakin Miller, Owen Tucker-Smith, and Col McDermott. The rest of their season looks hopeful and the team is confident to stay undefeated. The senior captains, Jakin Miller, Josh Cheung, Mike Maruk, and Theo Sandstrum, have commented on the young talent on the team, and how after they graduate, "the team will be in good hands."
As for the girls, they have been doing just as well this season. Junior captain Brandi Gill is the skier to look out for, winning two of the first three races and coming in third in the other. When reflecting on her team's hopes and goals for the remainder of the season, Brandi says, "our goal is to win States for our third consecutive year. That would be a great accomplishment for the team, especially for our seniors." Senior captain Margo Smith has been skiing since seventh grade, and "will be sad to leave this team, but proud of all the successes over the years." Both the boys and girls are looking forward to the upcoming races and are excited for what's in store for the end of the season.
About the Writer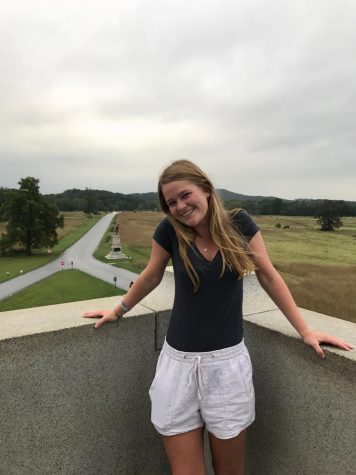 Sam Whittum, Sports Editor
Sam has been on Echo for two years now, and is the sports section editor. When not frantically writing her articles at the last possible minute, Sam can...