Cast of Hello, Dolly! Prepares for Undated Performances in March
This year, the Mount Greylock theater department is set to perform Hello, Dolly! for the winter musical. This lively musical follows widow and matchmaker, Dolly Gallagher Levi, and her meddlesome escapades in 1880s New York. Dolly finds herself in New York City to work her matchmaker magic on Horace Vandergelder, a penny-pinching half-a-millionaire, but her intentions to marry him herself are brought to light. The young artist, Ambrose Kemper, wants to marry Vandergedler's niece, Ermengarde, but Vandergelder is opposed due to Kemper's lack of a reliable salary. More meddling ensues after Dolly inserts herself into the lives of Cornelius and Barnaby, clerks of Vandergelder, and Irene and Minnie, two dressmakers.
Jeffrey Welch is the director of the musical, with Jean Kirsch as the vocal coach, and Lyndon Moors directing the pit orchestra.
Following auditions, the cast and crew are in place and getting ready for their performances. Ruth Weaver has taken on the role of leading lady, Dolly Levi, with Jonah Hane as Horace Vandergelder, Finn Ellingwood will act as Ambrose Kemper, Ashtynn Faas as Ermengarde Vandergelder, and Marleigh Briggs and Olivia Winters as the dressmakers, Irene Molloy and Minnie Fay. Sam Tucker-Smith and Krishan Rai play Vandergelder's clerks, Cornelius Hackle and Barnaby Tucker, Avery Powers as Ernestina Money, and Julia Donati as Mrs. Rose.
Unique to many other theatrical performances, the understudies may get one of the performance slots. Director, Jeffrey Welch, says, "I'm still considering ways to give [the understudies] the opportunity to perform." The understudies are Victoria Melkonyan as Dolly, Juliet Kornell as Irene, and Lucy Igoe as Minnie.
The dates of the performances depend on the status of the new auditorium. If the auditorium is complete by early March, the performances will be Thursday through Saturday on March 7th, 8th, and 9th at 7 pm in the new auditorium. In the event that the auditorium is yet to be complete in time for these dates, the alternative showtimes are Saturday the 23rd and Sunday the 24th at 7pm at the '62 Center at Williams College.
About the Writer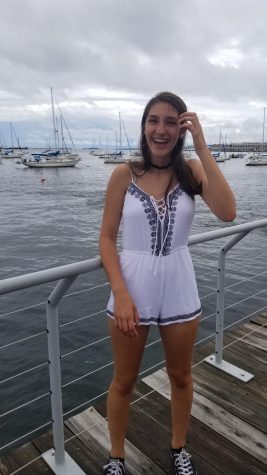 Cammi Macuch, Interviews Editor
Cammi has been on the Echo for the past two years. As section editor of interviews, there's nothing she loves more than the mad scramble to coordinate...