Peer Team's Kindness Month Comes to a Close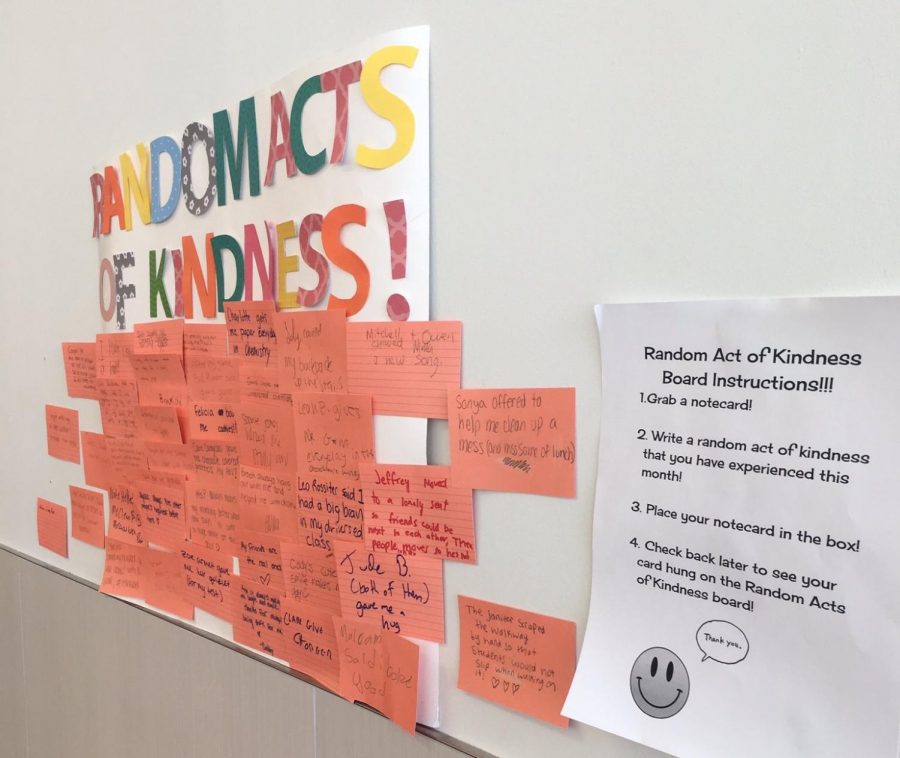 This past fall, Mount Greylock's Peer Team introduced the school community to Start With Hello, a kindness initiative created by the families of the students killed in the Sandy Hook shooting in 2014. This project consisted of a week's worth of activities to help students and the school community grow closer, including positivity posters, sticky-note compliments, and picture booths for new friends to make new memories. 
This month, the Peer Team began a similar project: Mount Greylock's first Kindness Month. With all of the smiles one kindness week earned in October, having a month full of new activities and promotions of kindness to kick off the new year was hoped to bring students together. To implement the kindness month, the Peer Team put together multiple projects and events to engage students. Different groups within the Peer Team divided and conquered different aspects of the kindness initiative: one group of students created a Mad-Lib style compliment booth while another group created the Random Acts of Kindness board, where students could post acts of kindness they witnessed throughout their school day. One group of students that works with the idea of mental and emotional health within the Peer Team also held the first of multiple stress-reliever directed study groups, where students in grades eleven and twelve can spend the period involved in hands-on and non-academic activities such as making stress balls. These directed studies help students to relieve themselves from the pressures of class and help them to find personal kindness to themselves and their bodies. The students on Peer Team also came up with multiple spirit days for student and faculty to participate in, such as beach attire "Ride the Kindness Wave" day and sports attire "Team Kindness" day.
As the month comes to a close, the positive effect this kindness initiative has had on the school can be seen everywhere.
From small and kind gestures to generous favors, Mount Greylock's students and faculty have all worked to make the school's atmosphere brighter and kinder this month, especially considering January brings stressful activities such as midterm exams. One part of this Kindness Month that has really stood out from others is the Acts of Kindness board located in the cafeteria. "I think it is great how the board recognizes and points out the good deeds around the school," Peer Team member Julia Jammalo said. "It also encourages students to pay attention and appreciate the little deeds." For example, a favorite from the Acts of Kindness board displayed in the cafeteria reads, "the janitor scraped the walkway by hand so that students would not slip when walking on it!" Whether it be helping another student study for end-of-semester testing or helping a friend shovel snow to travel safely, these acts of kindness, random or not, have gone a long way for every person in the school. Jammalo put this into words perfectly, explaining that "being kind is such an important trait to have. So many people lack it. I think that any way that we can encourage it can make a long lasting difference."
With the success of the Start With Hello initiative and January's Kindness Month, Peer Team members and other students around the school are hoping for the kindness to stick. 
About the Contributor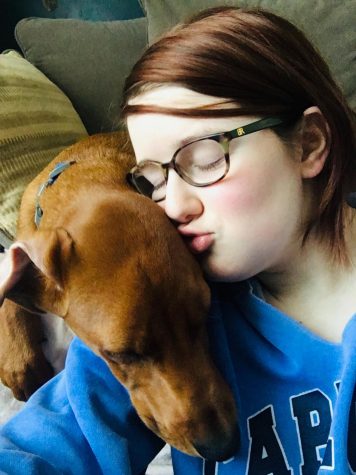 Eva Myers, Staff Writer
Eva has been writing for The Echo for two years. And, as if writing articles and taking AP Language isn't enough writing for her, she is also a long-time...