Students Explore Green New Deal at Sunrise Watch Party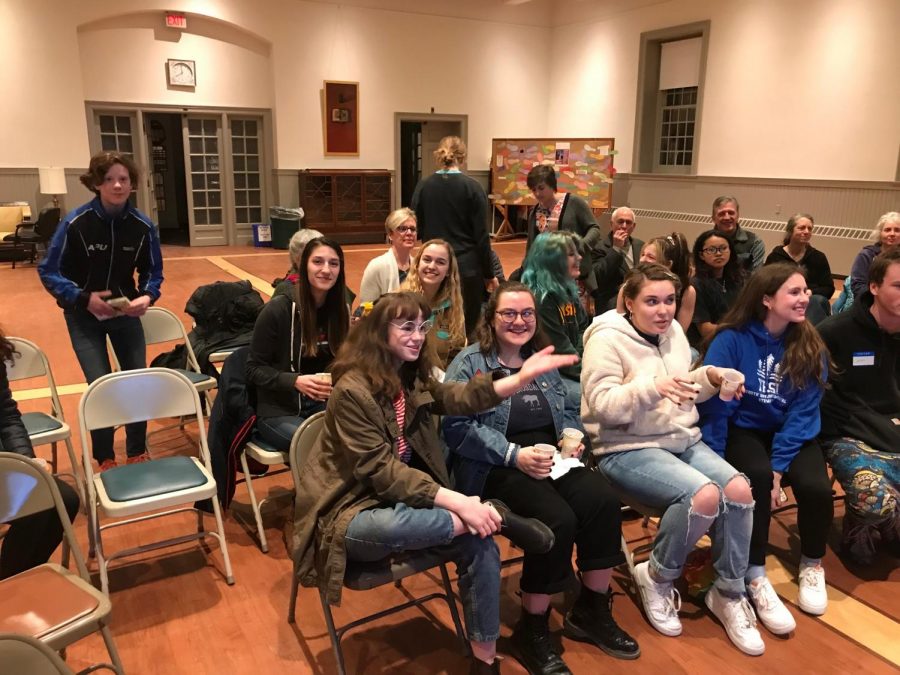 Greylock students and other community members convened Tuesday night to watch the Sunrise Movement's Green New Deal livestream. Present were members of the Youth Environmental Squad, who hosted the event in conjunction with the Williamstown First Congregational Church, members of Greylock's relatively new REV (Register, Educate, Vote) club, students from Buxton Academy and Williams College, and adults from all corners of the community. The purpose of the event, as explained by the promotional email, was to "gather and push the fight for clean air and water and good jobs for every single person across the country."
While First Congregational Church Youth Education Coordinator Anne O'Connor had the initial idea for the watch party, she decided to involve local students in the organization. "[O'Connor] reached out to Sophie and I about a week ago and asked us if we wanted to be a part of this. She said she was really interested in environmental justice. And it was a youth thing, so she thought it would be really cool if it was dominated by youth," REV co-founder Karen McComish said. "It made no sense to host a screening party to my usual demographic of 60 and up," said O'Connor. "I wanted to get out of the little bubble, and since there are clearly so many youth activists at Mount Greylock, it seemed like a good time."
The importance and value of youth involvement was stressed multiple times, by some adults who praised the REV leadership's initiative and by the ages of the two Sunrise livestreamers, one of whom was only 18. As the movement goes on, O'Connor would like to see youth continue playing a dominant role. "I'm hoping that the youth will tell us how we can help work towards the goals that they want to achieve, particularly in social justice issues and environmental issues. Part of my job here is to put myself at the surface of what the youth want to do."
"
I'm hoping that the youth will tell us how we can help work towards the goals that they want to achieve."
— Anne O'Connor
The Williamstown watch party was one of many gatherings across the nation viewing the live stream. Over the course of the 45 minute call, members of Sunrise as well as critically acclaimed journalist and activist Naomi Klein introduced the purpose, timeline, and goals of the Green New Deal, a plan supported by congresswoman Alexandria Ocasio-Cortez and Massachusetts Senator Ed Markey, who plan to unveil a resolution this week.
The Green New Deal refers to the large-scale creation of clean-energy jobs, meant to "stop climate change and create millions of jobs in the process," the Sunrise livestreamers explained. The concept dates back to 2007, when Thomas Friedman called for a Green New Deal in a New York Times column. It has seen a massive resurgence ever since young activists occupied Speaker of the House Nancy Pelosi's office in November, demanding climate change receive prime attention among Washington Democrats. It was the Sunrise Movement that brought attention to the Green New Deal and Congresswoman Ocasio-Cortez who rushed it into the political scene. And less than three months after the Pelosi sit-in, she and Markey will release an outline for what Ocasio-Cortez called a "national, social, industrial and economic mobilization at a scale not seen since World War II" in a recent letter.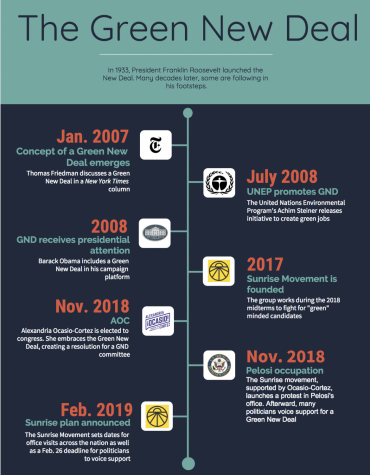 Sunrise has "hubs" all over the nation, but Williamstown is not one of them. However, McComish said that "we are talking about creating a hub here. It would take a lot of people power, but it would be really cool." Even if Williamstown doesn't become a hub, however, McComish said that there is still potential to create a higher level of environmental awareness in the area. "A hub would be ideal, but if only activism comes out of this, that would still be great."
Before starting the livestream, attendees briefly discussed why they decided to show and talked about what they already knew about the Sunrise Movement and the Green New Deal. Junior Maddy Art opened the discussion by expressing interest in the Deal's open and vague nature, arguing that it would make it easier for politicians to support. Students and adults also mentioned that Massachusetts Representative Richard Neal had not yet expressed support for the Deal, noting Neal as a possible target as the push for support moves forward.
During the livestream, Sunrise leaders outlined an action timeline for the Green New Deal, which includes a period of aggressive tweeting, emailing, and calling politicians to show their support, a period of mass office visits across the nation, and, on February 26, a nationwide day of action to pressure any congresspeople who had not already come out to support the Deal.
The second phase drew particular interest from party attendees, who have already begun organizing a visit to Congressman Richard Neal's Pittsfield office. Almost immediately after the livestream ended, REV leaders McComish and Art suggested a visit, and the group suggested Tuesday, February 12 as a possible date, although a final day has not been determined. The trip will not be sponsored by Greylock, YES, or REV. Greylock students may be joined by fellow activists from Williams, Buxton, and possibly other Berkshire County schools.
The livestream, visit, and possible events afterward will be the Greylock activists' first major mobilizations of the school year. Last year, the group traveled to Washington to attend the March for Our Lives, and REV was born as an official club soon afterward. Club founders Art, McComish, Sophie Jones, and then-senior Maia Hirsch also had organized the Mt. Greylock chapter of National School Walkout Day to protest gun violence and remember the victims of the Marjory Stoneman Douglas High School shooting in Parkland, Florida, and later organized a town hall in Pittsfield for various politicians to answer questions about gun control legislation.
This year, the club has begun hosting formal after-school meetings to discuss various issues. While next week's office visit will not be officially a club event, it will be coordinated by REV leadership and indicates that climate change may play a central role in the club's efforts this year, just as gun legislation did last year.
As the Green New Deal develops and Greylock students join the movement, the intersection between clubs like REV and YES will likely grow. "Environmental justice is so intertwined in government," McComish explained. "I think one of the most important things in government right now is environmental justice and legislation – like radical legislation. YES club is traditionally more focused on things within the school, but if it overlaps with REV, maybe it can take broader actions."
The Echo will publish an update next week following the potential Richard Neal office visit.
About the Contributor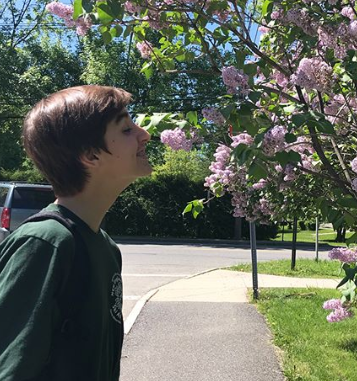 Owen Tucker-Smith, Editor-in-Chief
Owen has been on Echo staff for three years. When not writing, editing, and publishing stories, he can be found doing nerdy things (playing the piano,...