REV Starts Media Weekly Newsletter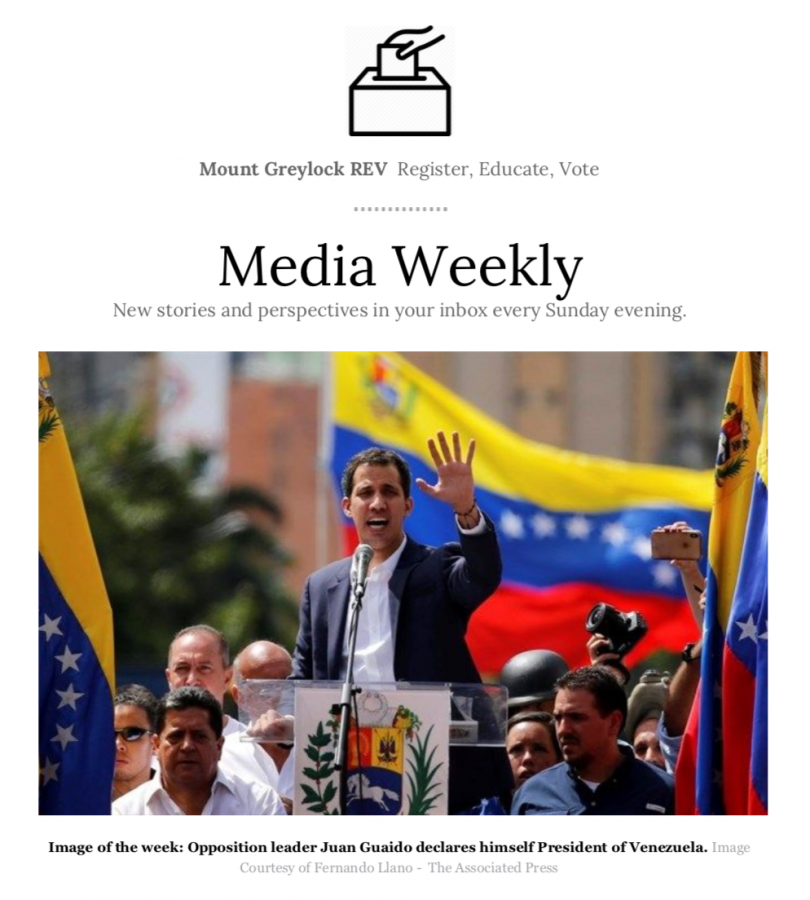 One of Mount Greylock's most popular clubs this year is the REV club. The club, which stands for Register, Educate, Vote, has attracted students from all grades, and the club members are working to educate other students and community members of the importance of voting. One way they are spreading the word and the work they are doing is with a new newsletter, called "Media Weekly," that was started and organized by junior Owen Tucker-Smith and sophomore Charlie McWeeny. Their newsletters contain information and links to stories about many current world events, and are sent out to subscribed REV members and community members. "Every week we cover four main events, or three, and within those events we get ten different articles," says Tucker-Smith. For example, the most recent newsletter from February 24th covers a wide range of topics, from violence on the Venezuelan border, to the Oscars, to Donald Trump and Bernie Sanders.
"The goal is to promote multiple perspectives from the news to multiple media and multiple news points every week… For people to have a greater understanding of current events, but also to understand it through the views of different types of publications. Like reading something from Fox News is going to be very different than reading something from the New York Times," Tucker-Smith explained. The newsletter is open for subscription not only for club members but to anyone in the school and Williamstown community who are interested. If someone is interested in a certain topic in the news, they can also send a link or article to the Media Weekly email, and the writers will make it a part of the newsletter. Students can email mart@mgrhsstudent.org to be added to the list, or mediaweekly.rev@gmail.com to submit material.
Students that are a part of or interested in REV have done a lot of work this school year. From handing out "Voted" stickers at Williamstown Elementary School during the election last November to organizing an in-school mock election, they have succeeded in their goal to spread the word and educate young people about voting. Engaging students in events such as the mock election has helped to make students from all grades excited to vote, and with this newsletter open to everyone it will be another way to grab the attention of students about politics and current world events.
"In a broader sense, we're also trying to expose our peers to the injustices and oppression in the world, the triumphs and sorrows of humanity, so they can go out and affect change," says McWeeny. "In Media Weekly we're seeking the balance between traditional news sources, primarily print, and new multi-media, such as audio and video, to help craft a new generation of global citizens." The newsletters will help in REV's goal to inform and create interest in students about politics and voting, and with the help of the Media Weekly newsletters students who aren't familiar with these topics can be exposed to them and have a wide selection of information at their fingertips to help educate them more.
About the Contributors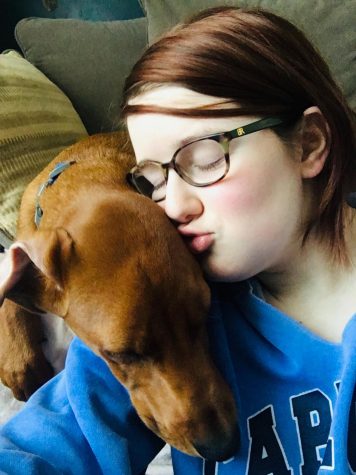 Eva Myers, Staff Writer
Eva has been writing for The Echo for two years. And, as if writing articles and taking AP Language isn't enough writing for her, she is also a long-time...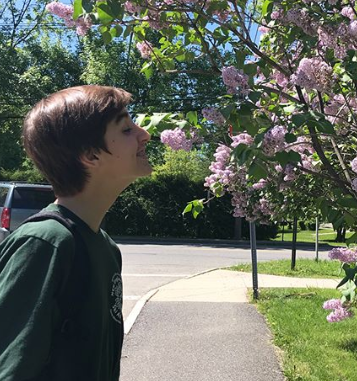 Owen Tucker-Smith, Editor-in-Chief
Owen has been on Echo staff for three years. When not writing, editing, and publishing stories, he can be found doing nerdy things (playing the piano,...