Greylock Puts on Career Fair
On the half day on Wednesday, March 20th, both teachers and students from grades nine through twelve attended this year's career fair that was held in the cafeteria throughout the day. The fair, which was organized by Ms. Mendel and Ms. Tierney, was made up of parents, community members, and Mount Greylock alumni, and consisted of many different people with a variety of jobs, from a massage therapist to an E.M.T. to a manager of a daycare for dogs.
Students spent a period meeting and talking to the alumni, learning about their careers and what it takes to have their jobs, and circulating through the different tables taking notes and collecting stickers from the speakers. A student who was looking into engineering or construction could learn about the basics of the job from local experts in the fields, while another student interested in the medical field could learn how to use a Narcan injection to reverse an overdose from the E.M.T.'s in attendance.
Mendel and Tierney came up with the idea together and made sure to include a wide variety of careers in the fair, and worked to communicate with alumni and community members to have them at the fair. Tierney expressed that she was excited to organize the career fair, sharing that it was her favorite part of high school and that she wanted to have Greylock's students enjoy that experience as well. The members of the fair were also excited about its happening. Talking with the different alumni, some recalled how interesting and helpful their high school career fairs were for them, while other alumni never had career fairs in high school.
Kim Simpson, an english teacher at Reid Middle School who attended the fair, said that they had no career fair when she was in high school. "I wish we had though.  When I was in high school the only option that was promoted was college," Simpson said. This sentiment was shared by multiple other fair attendees, who explained that, as much as they loved their jobs now, they had wished that they had known more of what their options were in school.
Simpson also expressed how much she enjoyed teaching the students at the fair about her job. "I appreciated how candid so many students were about their questions and opinions. I loved how many kids were not just filling out the paperwork but were genuinely engaged and interested in learning about careers," Simpson said.  
"As a teacher, I think a career fair is crucial for young people to explore the multitude of options available to them. Our society often expects young people to know what they want to do with their lives at 18. Anytime schools promote career exploration the better off students are."
Tierney said that she hopes to organize more career fairs for students to attend in the future. 
About the Writer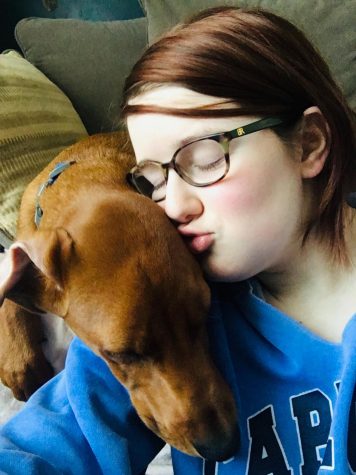 Eva Myers, Staff Writer
Eva has been writing for The Echo for two years. And, as if writing articles and taking AP Language isn't enough writing for her, she is also a long-time...