Bellmon '08 Brings Political Experience to Greylock Visit
On Tuesday, March 26th, Greylock alum Anthony Bellmon came to speak to students about his work with Congressman Brendan Boyle, as well as his other work in politics and the community.
Bellmon, who graduated in '08, currently works for the congressman as his body man, personal assistant, and event planner.
In his job, Bellmon also works as an immigration specialist to help bring separated families back together, as well as spending time helping communities like his and Boyle's hometown Philadelphia working as the district outreach coordinator for Boyle and a co-founder of Millennials In Action (M.I.A.). M.I.A. is a program co-founded by Bellmon and a friend, and the group works to raise money for local elections, organize community events, and interact with community members to educate them about voting.
"I absolutely think it's important for everyone to understand how our political system works and how we engage with it. People sometimes lose touch of the fact that politics doesn't just happen in some far off world in DC and isn't just pundits talking on cable news; it affects all of us every single day," said Maddy Art, a junior and president of the R.E.V. club. She and the other members of R.E.V., along with Mary MacDonald, organized Bellmon's visit to Mount Greylock.
Both Bellmon's M.I.A. program and R.E.V. have the goal of educating young people in the community, and it was educational for both R.E.V. members and U.S. History students to hear about politics from the perspective of someone who works with political figures every day.
After graduating from Mount Greylock, Bellmon attended George Washington University. Bellmon, who said he was inspired by the White House-based television show The West Wing,  began to join political campaigns in college, and continued on after graduation to campaign for Obama in 2012 and Congressman Boyle years later.
Having worked for political campaigns over the years, Bellmon discussed with students Tuesday the importance of persuasion. The main point he made, one that again connects to the R.E.V. club's goals, is to find what most appeals to the people, whether it be money, votes, or personal beliefs, and use it to gain their trust and attention.
"I think it's important to learn about politics because in the end it is you who is affected whether you believe that or not," said R.E.V. member Julia Butler. "To make change it's definitely important to talk to people like Anthony Bellmon, and other people who work in politics because that is where change comes from and where people know what action to take."
"Often we don't have a great sense of how that how those things actually work, so it's great to for everyone to see what one way to get into politics is like," said Art on the subject of Bellmon and political speakers.
On the subject of future plans, Art also expressed R.E.V.'s interest in hosting more speakers, explaining that the members of the club would "like to expose students to speakers with a variety of viewpoints and political philosophies and speakers with all sorts of jobs in government." According to Art, R.E.V. is hoping to organize a series of speakers like Anthony Bellmon to join students during directed studies in the future. 
About the Contributor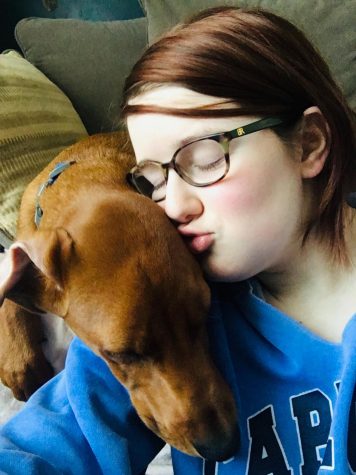 Eva Myers, Staff Writer
Eva has been writing for The Echo for two years. And, as if writing articles and taking AP Language isn't enough writing for her, she is also a long-time...