MCAS Madness: A Tradition Continues
For students, the hoop/test prep combo never gets old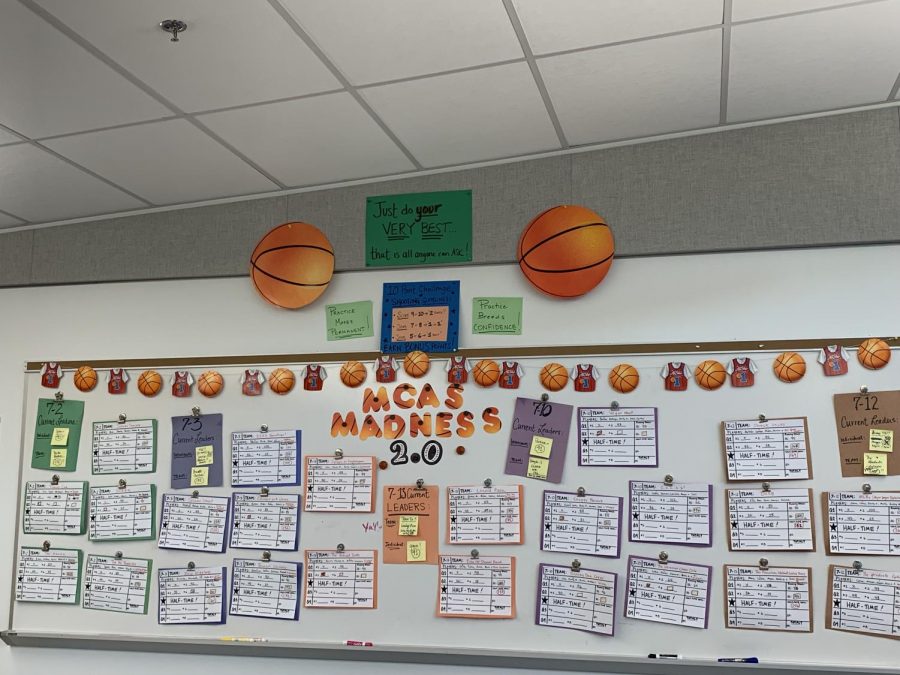 Every year since MCAS was implemented in 1993, the students of Mrs. Barrett's seventh grade english class have competed in their own March Madness. Students mix basketball shootouts and MCAS work packets as a way to prepare for the English Language Arts Massachusetts standardized test.
In MCAS Madness, there are a total of ten challenges, each worth ten points. There are warmups, four quarters with a halftime, and an overtime. Each round, students earn points from the MCAS practice packets they complete. At halftime they do the narrative essay and at the end of it they do the literary essay, both components of the test.
Students that have their homework completed also get the chance to shoot at the hoop for extra points. The more points you earn on the packet, the more shots you get to take. "Since you have to have done the homework to get to shoot at the hoop, kids who are not good about doing the homework, always do the homework during MCAS Madness. It's very motivating," said Mrs. Barrett.
This format of test prep has a variety of benefits, according to Barrett. "While all year long students are working on developing the reading and writing skills needed for the test, the test prep itself is more for familiarizing the students with what the test is going to look like: the type of questions and the way the state asks them," said Mrs. Barrett. "Because my curriculum doesn't involve much multiple choice, it's important that I spend a couple of weeks before the test working with students on strategies for answering the multiple choice questions."
Barrett also pointed out that MCAS madness is beneficial for reducing anxiety, one of the biggest concerns about MCAS testing. "If you make test prep fun, you absolutely reduce the anxiety. That's huge at any age, but especially in seventh grade when they're new to Greylock."
"We've been happy to have a lot of positive success when students actually take the test," she said. "I wouldn't do it just for the fun, but the fun works. While some might question that we take actual class time shooting at a nerf hoop, that's the motivation to do the work."
"
If you make test prep fun, you absolutely reduce the anxiety. That's huge at any age, but especially in seventh grade when they're new to Greylock."
— Ms. Barrett
MCAS Madness record holder Toby Foehl said that "MCAS Madness was a great experience because I got to incorporate one of my favorite things, basketball, into English class. Getting to shoot the shots, that drove my interest, but it forced me to do better on the actual MCAS prep too."
"I think it's really fun, because normally MCAS isn't that fun, but when you add in the basketball part, that really made it something special," said Grace Malone, current leader of her section on the fourth round."
While the only thing that goes in the gradebook is the students' own personal score, there is also the team competition for bragging rights. "It's really fun because you're part of a team," said current seventh grader Ben McDonough. "You encourage people to take shots."
"You get really involved in your team," echoed classmate Grace Winters. "If one of your team members got a significantly better score than last week, you're like 'oh that's really good. You did a really good job.' And you get to bond as a team and get to know the other people on your team better. We give each other tips. It's very supportive."
Eighth-grader Sam Tucker-Smith also commented on the supportive environment. "Last year I made a basket once," Tucker-Smith said, "It made me very happy and everybody cheered."
The day students take the actual MCAS, there is a final celebration with prizes in the gym. The winners from every class shoot against each other to determine the final grade winner. "It was a good way to get kids to practice for MCAS because competitiveness is a great motivator," past grade winner Leo Rossiter said.
A unique aspect of the fifteen year tradition is the way competitiveness is carried  throughout the years. "My son Hank Barrett won his year, setting an all time record. Then 4 or 5 years later, Sam Dils knew that Hank Barrett had the all time high and set a goal to beat it, which he did (and loves to hold over Hanks head). And then after Sam there was Toby Foehl who beat the record."
Mrs. Dupee, the former middle school teacher, was the first to have the idea and come up with the phrase. Since then, the idea has spread across the state and even the country. "Every student teacher or Williams intern that I have had and is now teaching, has written to me after they left and said they're doing some version of MCAS Madness," said Mrs. Barrett. "It's making its way around the country. I know it's being done in California, I know it's being done in Boston so it's really fun that it's taken off because it works."
Standardized tests have received abundant criticism over the past years, and the MCAS is no exception. Games like Barrett's strive to remove some of the stress from these tests.