Fink, Boys' Tennis Take Win at Mount Everett
The boys' tennis team earned their first win of the season on Tuesday, topping Mount Everett 3-2. Senior Jacob Fink and eighth grader Nate Verter each came out in front in first and third singles, respectively, and the first doubles combo of junior Ryan Narey and eighth grader Finn Carothers also won, giving Greylock the three wins they needed to claim an overall victory.
The victory followed a 0-12 2018 season for the then-incomplete team, which had only four players. Prior to that, the Mounties had been able to clinch three back to back Western Mass titles. Now, as Fink and other upperclassmen join a crew of experienced returnees, the squad is changing their competitive outlook.
The victory also followed two consecutive 0-5 losses to Bennington's Mount Anthony Union. Last week, in the second of these matches, Fink lost narrowly in a three set matchup to Mount Anthony's Michale Niemi, while Ryan Narey and two duos were defeated in two sets each.
"I had a rough two matches against [Mount Anthony]," the senior captain told the Echo. But Fink also said that because the team is out of league, he doesn't "think that they count for too much." Nevertheless, two 0-5 losses was a rough way to start the season, he said.
On Tuesday, however, the scene on the court was different. The Mounties won three times, and the two matchups that they lost were both tight ones: sophomore Gabe Gerry fell to Mount Everett's Gray Duval in three sets, and the Mounties' second doubles team lost the first set in a tiebreaker.
Yesterday, the Mounties were beat by Pittsfield, but not in the same way that they lost to Mount Anthony. Fink took home his second win of the season, and a Narey/Carothers duo triumphed at first doubles. Again, Gerry played a three set match, so another overall victory was not far out of the Mounties' sight.
While Gerry did not win he noted that "I lost the [match against Pittsfield] in a three set tiebreaker, which is as close as it can get."
Fink also stressed the narrow margin by which the Generals won. "We were really close to beating Pittsfield the other day, and I think they are one of the top teams in the county, so I'm feeling pretty good about that," he said.
A large chunk of this year's team is underclassmen, including numerous middle schoolers. "We're a young team, but we're making significant improvements," said Fink. "We have really solid players like Gabe and Nate, and many others who are making really great strides. Everyone's practicing really hard and showing up, which I'm really excited about."
Gerry also emphasized a strong team atmosphere.
"The team dynamic is really great. We all have a really good time during practices, and we're enjoying the season."
In addition to a team full of young, new players, Fink is coming off of a few year away from the competitive court.
"It's been my first competitive tennis in a couple years, so it's taken a little time to readjust to it all," Fink said. "But I had a really good win against Pittsfield the other day and another win against Mount Everett, so that's been good."
In choosing tennis for the spring this year, Fink said that "tennis is really what I love more as a sport. It felt like a good way to spend my last season at Greylock." Previously, Fink, a cross-country runner who has led the league for many seasons, had ran track on the team's distance crew. But before that, Fink had been dominant in the Western Mass tennis sphere. In 2017, the then-sophomore won all but one of his matches at first singles and all of his matches at second. In 2016, the then-freshman won all but two at second singles and all at third.
Fink will most likely compete in this year's Western Massachusetts Individual Tennis tournament. As for the team, Fink doesn't quite know what to expect.
"We're kind of taking it slow, just seeing how it goes as a team," said Fink. "We're taking it one match at a time – getting better at practice and seeing where that leads us."
"Hopefully I can make a dent in the [Western Mass] competition," he added.
Boys' tennis travels to Ludlow tomorrow, to Lenox on Monday, and to Lee on Wednesday. They host Lenox next Friday.
_____________
Scores: Victory @ Mount Everett, 4/23
Fink vs Duval (6-1, 6-1) – 1S
Duval vs Gerry (6-7, 6-2, 6-2) – 2S
Verter vs Benoit (6-3, 6-3) – 3S
Narey/Carothers vs Gogel/Kavar (6-0, 7-6)
Belski/Master vs Michalal/Keating (6-7, 6-3)
About the Contributor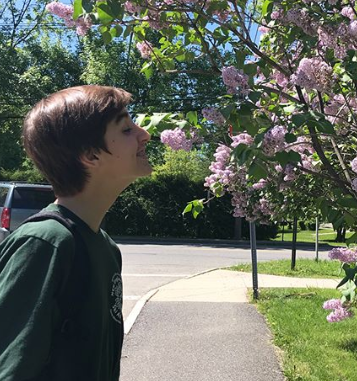 Owen Tucker-Smith, Editor-in-Chief
Owen has been on Echo staff for three years. When not writing, editing, and publishing stories, he can be found doing nerdy things (playing the piano,...