Golf Starts Season 2-2
As students enter the third week of school this season, the golf season has started the season off with a record of 2-2.
This season's team is coached by Mitchell Spooner and Casey Conry, with the help of student captain Brayden Smith. 
"We could not do anything without the coaches. They are able to make sure we are doing what needs to be done and they really are the engine that keeps this team going," says Smith. "Everyone here is an important piece to this puzzle, and I am just happy to be a part of it."
The team has played against some impressive teams so far this season, including Lenox, Taconic, Hoosac, and Mount Everett, and has upcoming matches against Lee, Pittsfield, Wahconah, and Monument Mountain.
"It's nice to get back into the swing of things after the summer break," said senior golfer Nicole Overbaugh. She and Smith both said the golf team feels as ready as ever for this season, and the players are confident about both their matches and team building this season.
"Our season has been going great, we have a lot of talented kids and they are only getting better each day," Smith said.
The team's last match against Mt. Everett resulted in a 175-181 win for the Mounties, and the team will play them again soon.
With the season off to a smooth start, Overbaugh shared her goals for the coming months. "I'm looking forward to watching our team grow, both individually and together." she said. "We all know each other's physical and mental strengths and weaknesses, so now we just have to find a way to bring out the best in each other when we're down."
"Not everyone is going to have a perfect round or a perfect season, of course," she said. "But I believe we have supportive teammates that will be able to nourish and develop our growth as a team throughout the season."
The team's next match is today at Greenock Country Club against Lee, and their first home match will be against Hoosac Valley on September 25th.
The team encourages fellow Mounties to attend this match or matches to come. "You are allowed to come watch golf matches!" Overbaugh said. "Popular belief states otherwise, but we'd love to have more Mountie fans at our events."
About the Writer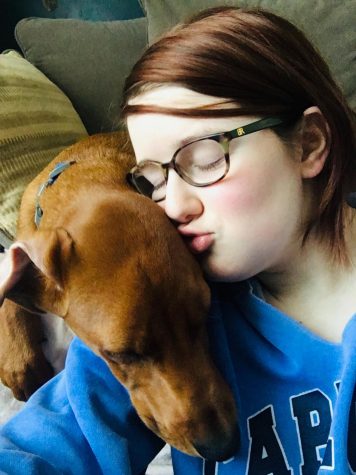 Eva Myers, Staff Writer
Eva has been writing for The Echo for two years. And, as if writing articles and taking AP Language isn't enough writing for her, she is also a long-time...