Model UN Delegation attends SciMUN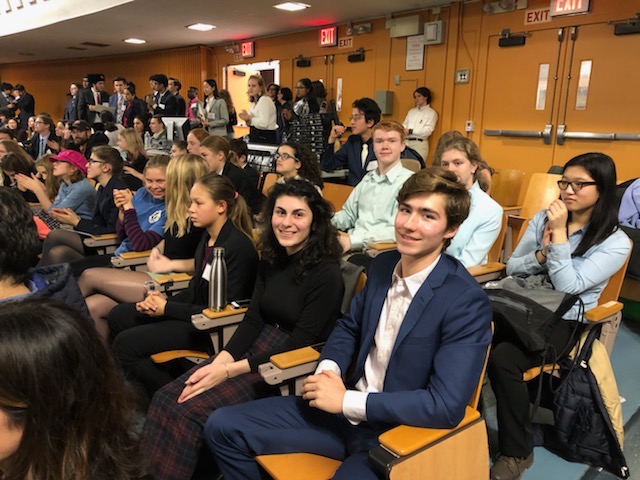 The Mount Greylock Model United Nations Delegation has been busy for the past couple weeks as they head into winter break. In its fourth year in existence, the club is run by Secretary-Generals Owen Tucker-Smith and Victoria Melkonyan, Captain Oscar Low, and Chief of Staff Noah Greenfield, along with several Williams College students. The program teaches participants skills such as practicing debate, public speaking, and researching. It also gives students a chance to delve deeper into current events and discuss issues facing various local and global communities, as well as historical issues.
The Model UN Delegation attended its first conference of the year this past weekend at the Bronx High School of Science in New York City. There were 20 Greylock participants, along with 200 students from various other schools. The conference had several special assemblies that discussed issues such as climate change, Yemen and the humanitarian crisis, and the Brexet vote. Junior Victoria Melkonyan's committee took place during the English Civil War, and junior Oscar Low participated in the People's Continental Congress.
Delegates said that one of the most challenging portions of a model UN Conference actually happens before students even arrive — the position paper. 
"A position paper basically outlines your country and the issue you will be discussing, as well as your country's stance on the issue in order to prepare you for debate," said sophomore Krishan Rai. 
"The most difficult part is learning the procedure," Melkonyan added. "How to speak and how to talk before your peers." 
Students get the opportunity to work through not only their country's issues, but also potential resolutions. "It was fun working together on resolutions because that was when the committees got the most interesting," said sophomore Tashi Rai, whose committee focused on climate change in OPEC countries. 
"It's something else to be in a room of people who are just as passionate and eager to contribute as you are," Melkonyan said. "It also helps to see how your writing is received to improve for future conferences" 
In the new year, the delegation will travel to Dartmouth College in early April to attend a three day conference. The group also hopes to host their first ever Mt. Greylock Model UN conference at Williams College in late April.