Fabrics and the Pit: Behind the Scenes of "Anything Goes"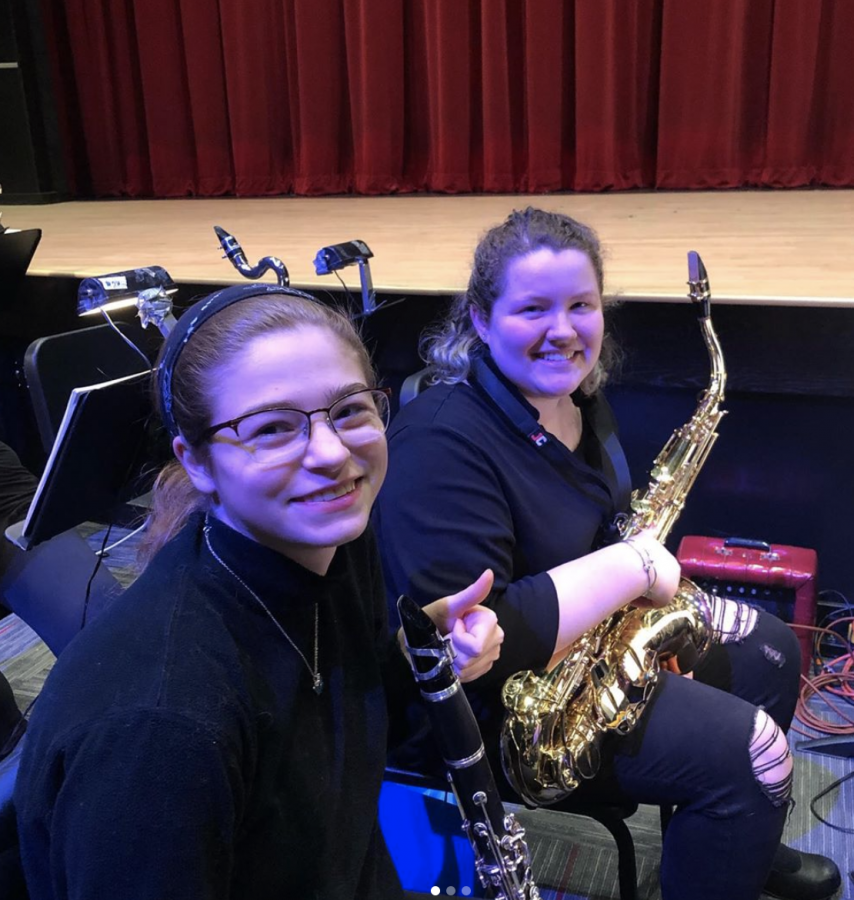 Mount Greylock's annual Spring Musical, Anything Goes, took place from February 28 to March 1 in the school auditorium. While the musical featured a combination of talented actors — Marleigh Briggs, Sam Tucker-Smith, Krishan Rai, Ashtyn Faas, Finn Ellingwood, and many others — on stage, and a crew of students backstage and in the pit orchestra. 
The pit orchestra, directed by band teacher Lyndon Moors, provided live music for the actors to sing to. They sit in front of the stage and wear all black so that they do not draw attention away from the musical itself. Lily Edge, high school senior, said the pit contributes a lot to the musical. It brings it alive."
Edge has been playing the cello for years, and only joined the pit orchestra three years ago. She said that she wishes she had joined earlier, but she hasn't always been the confident cellist that she is today. "I decided to join because I needed to step outside my comfort zone," she said. "I did not feel like I was being challenged musically." Outside of school, Edge has been involved in CIAO (Community Intergenerational Action Orchestra) and is currently the third youngest member of Sage City Symphony in Bennington, VT.
Aside from the pit, a lot of support goes into making sure the actors do their best when they themselves are onstage.
Mrs. Kirsch is perhaps known for her vocal coaching, but for Anything Goes, she entered the field of costume design. In the second act, Reno (Marleigh Briggs) has a costume change and comes out wearing a blue dress— a look designed by Mrs. Kirsch herself.
"The hardest part was looking through patterns and deciding how to make it," Kirsch said. "It took me an hour and a half to decide on what I was going to make; it only took me twenty minutes to pick the fabric." Kirsch said that the shimmery blue fabric stuck out to her when she saw it. "It just fell into place," she said.
Kirsch has been sewing since she was eight, and made most of her own clothes from eighth grade into college, so sewing is nothing new to her. She has been helping with costume alterations "since the beginning" as the fits from the rental company do not often fit quite right. In Anything Goes, for example, many of the skirts were too long and slender; safety pins and basting stitches were a common fix among actors, which Mrs. Kirsch helped with.
Although Briggs' dress was not a difficult design for Kirsch, timing did make it difficult. "I cannot even add up the hours. I would go from rehearsal to home and I would just sew until I couldn't," she said. "For three straight days my husband brought my sewing machine in for me, just so that when I didn't have a class I could work on it too."
Kirsch's dedication shows just how much work goes into preparing for the musical, even outside of rehearsal. "The musical can be stressful, but it is always very rewarding," Edge said, noting the give-and-take nature of hard work. "Overall," she added, "the people in the musical are the most kind, warm, and inviting I have ever met. I instantly felt accepted and loved by them."