November 15, 2021 Print Edition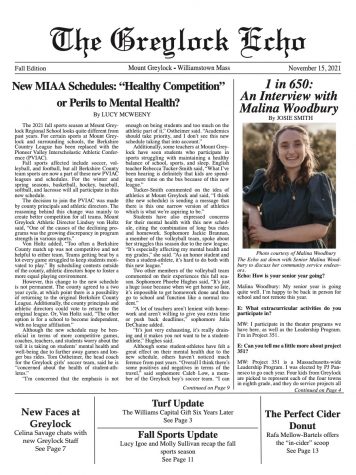 In This Issue: 
News & Features:

New MIAA Schedule: "Healthy Competition" or Perils to Mental Health?
1 in 650: An Interview with Melina Woodbury
A Look at the College Application Process
Midsummer? More like Mid-Fall: Shakespeare Returns
The Williams College Capital Gift Six Years Later
#TooMuchFunInTheLibrary
Regional School Challenges: The "Town Divide"
Greylock Partakes in "Banned Books Week"
Thirty-Year-Old Structure Uncovered
Spirit Week Overview
North Adams Elects First Female Mayor
"Repro Japan" Comes to WCMA
Outdoor Classroom or Dance Floor?
Flu Clinic
A Tribute to Miss Patsy
Sports:
Fall Sports Update
Athlete Spotlight: Kate Swann

Opinions:
Sylvie's Book Corner
A Failure in Local Environmental Education is a Failure for All
The Perfect Cider Donut
Twin Advice, Twice as Nice