Middle Schoolers Strive to Live the Greylock Way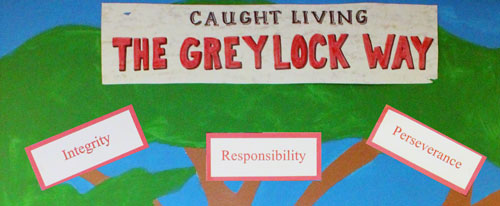 Hang on for a minute...we're trying to find some more stories you might like.
This year's first half day brought with it not only the relaxation that comes with shortened class periods but also the inception of the middle school "Living the Greylock Way" awards.
In an attempt to make students more aware of how they treat one another, seventh grade core teachers introduced the idea of rewarding students "Caught Living the Greylock Way." This initiative began on October 1 with seventh graders engaging in a full field day, featuring motivational speaker Dave Armet and team building activities with the Peer Team. At the end of the day, students who had performed some sort of positive recognizable deed during the activities—whether complimenting, collaborating or compromising with a peer—were given the first accolades by Peer Team members.
The "Living the Greylock Way" awards extend the lessons from the seventh grade field day to the rest of the school year. Each time a core teacher wants to recognize one of her students for an award, she will fill out a small red slip indicating the quality of the Greylock Way her student exhibited and then place it in a box in the main office. Every month, two seventh grade names will be drawn to receive some small prize, such as a movie ticket. Then, one time per semester, one name will be drawn for a Ramblewild ticket.  The seventh graders can be awarded based on acts of integrity, perseverance, responsibility and encouraging a peer, as well as simply for being courteous and grateful. The first names will be picked in late October.
The eighth grade is implementing its own similar program. Instead of drawing names every month, however, the eighth grade team will collaborate and award chosen students once per quarter.
Seventh grade science teacher Amy Moore-Powers founded and is coordinating the new Greylock Way promotion. Moore-Powers noted that high school students were praised for demonstrating the Greylock Way at the annual Awards Night last May and wanted to include the middle school with a similar program. The distribution of the awards was also modeled after a procedure accomplished from another school, which she had observed several years ago. She wanted to produce something that effectively acted as a constant reminder to her students about how they should react to the world around them.
However, she also wanted to incorporate a system that honored those students who surpass expectations. "I've wanted to do [something like this] for a long time in the middle school," says Moore-Powers. "It's a way of rewarding those kids that go the extra mile."
The middle school teams continue to encourage acts simulating The Greylock Way, hoping that these qualities and behaviors will resonate with students throughout their middle and high school careers at Mt. Greylock.