Spring Musical: South Pacific, March 6 & 7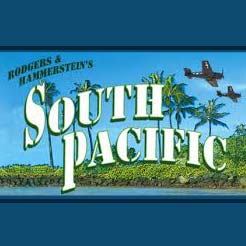 Hang on for a minute...we're trying to find some more stories you might like.
Mt. Greylock Regional High School musical cast and crew are putting on Rodgers and Hammerstein's South Pacific, which will be showing at the '62 Center for Theatre and Dance at Williams College on March 6 and 7.
South Pacific is centered around an American nurse, played by junior Nicole Jones, who falls in love with a French planter, played by senior Jacob Paul, on an island in the South Pacific. At the same time, an American Lieutenant, played by Jacob Hane, falls in love with a Polynesian girl, played by Rachel Bisson. The play tackles many underlying themes of racism, reflecting the twentieth century setting it exists in. For instance, the American nurse struggles with her love for the French planter because he has Polynesian children. At the same time, the marine struggles with his relationship to the Polynesian girl, as he fears the dangerous social consequences for marrying his Asian love.
Jeffrey Welch, history teacher perennially in charge of musical operations, directs South Pacific. Chorus teacher Kathy Caton directs the singing, Ann Marie Rodriguez  lead choreography, and Mt. Greylock band conductor Lyndon Moors conducts the pit orchestra.
About the progress of the production, Welch said, "The musical is going very well. We have a great group of students assembled; the sound is good, the look is starting to be good, and also we have a great crew of adults together to direct different parts of the show."
Welch also talked a little about the meaning of South Pacific, adding that, "There is moral to the story. It's not just your typical boy-meets-girl musical love story, but also there is a point about the nature of human relationships and human interaction. It has a wonderful message about people all coming from different backgrounds, from different places in their lives, and how in the end, those are externals and they really don't matter as much."
Nicole Jones noted how much the actors themselves are excited and enjoying the process, saying "It's a lot of fun. The cast is great and obviously Ms. Caton and Mr. Welch are awesome leaders of the group. It's a great show that's going well."
At this point, the performers and production crew are gearing up for the opening night of what is sure to be another great show to add to the archives of the Mt. Greylock musical.