Middle School Concert Delivers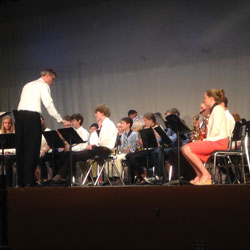 June 1, 2015
Filed under Arts
Hang on for a minute...we're trying to find some more stories you might like.
On Wednesday, May 20th, the Mt. Greylock middle school chorus, orchestra and band performed their annual spring concert. The band, conducted by Lyndon Moors, played the songs "Fantasy on a Fanfare" and "La Fiesta Brava," both by John Edmondson, as well as the first movement of the "British Isles Suite" by Larry Daehn. For a joyful and laid back song, the band played "Star Trek – The Inner Light" by Jay Chattaway and arranged by Jay Bocock, which comes from an episode of Star Trek: The Next Generation. Finally they performed "March Slav," by Pyotr Ilyich Tchaikovsky and arranged by Mark Williams, which was, according to Moors, one of their most fun pieces of the year.
The middle school orchestra, conducted by Ouisa Fohrhaltz, played the overture from the "Royal Fireworks" by George Frederich Handel and the "Wizard of Oz Medley" by Harold Arlen and arranged by Bob Cerulli. Next was "Greensleeves," a traditional English folk song, which Fohrhaltz said is a good song to teach to students, as it helps to practice the three forms of the minor scale that it contains. Lastly the orchestra performed "Set Fire to the Rain" by Adele Adkins and arranged by Bob Cerulli, with vocals sung by eighth grader Rachel Bisson, who also is a member of the chorus. While discussing this collaboration, Bisson said that the orchestra "began practicing maybe seven weeks ago, and Ouisa needed a singer. It was another opportunity to sing, and I try to take every singing opportunity I get. We had already done most pieces which I was nervous about, so it was nice just to sing and know what I was doing."
The middle school chorus, conducted by Kate Caton, performed the songs "Warmup in Gee" arranged by Brunehilde Matata Mozart and "Awake ye Dreamers," a German folk song, which was conducted by junior Nicole Jones, the choir teacher assistant. When they sang "Puff the Magic Dragon" by Lipton and Yarrow, the choir allowed, and even encouraged, the audience to sing with the choir during the song's chorus. In their later songs, the choir introduced soloists, such as in "Rag Mop" by Jonnie Lee  Wills and arranged by Kate Caton, which featured soloists including eighth graders Isabella Nicastro, Shelby Patterson, and Brook Masse. Another song featuring soloists was "Tomorrow" from the musical "Annie," by Martin Sharnin and Charles Strouse and arranged by Kate Caton, with solos by eighth grader Morgan Nottke and seventh grader Hannah Locklear. A favorite of Jones was "River in Judea" by Jack Feldman and arranged by John Leavitt, with soloists including eighth graders Lauren Jacobbe and John Ellingwood and seventh graders Nicole Overbaugh and Finnian Welch. She added that she liked the song "because it has a nice melody and a sweet message." For their closing song, the chorus serenaded the audience with "An Even Shorter Closer" by Dave Dunbar. Nicastro and Nottke, two of the students hand-selected by Caton to perform as soloists, noted that they have been preparing since about January for "Tomorrow" and since the beginning of the year for "Rag Mop."
This year's middle school concert showed great promise for the future of Mt. Greylock's high school's chorus, band and orchestra. The culminating performance marked the end of another great year for Mt. Greylock middle school's music department.