Student-Actors prepare for Shakespeare
November 4, 2015
Filed under Arts
Hang on for a minute...we're trying to find some more stories you might like.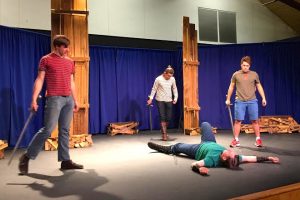 Students across all grades are rehearsing for their parts in this year's Shakespeare play, Macbeth. Every day, thirty five students come together to study the Bard's most violent play, under the tutelage of directors Ally Allen, Tom Jaeger, and Josh Mccabe from Lenox's Shakespeare and Company.
Seniors Luc Park, Jasper Rosenheim, and Noah Savage will play the infamous Macbeth. Nicole Jones and Molly Wilson will portray the role of Lady Macbeth and Macduff, respectively. Savage said, "This is really a dream role for all of us, getting to work with each other in such an amazing role". When asked about any possible obstacles, Park said, "It can be hard working with three people on stage constantly, but overall we have very little disagreement amongst ourselves on how to perform the role." The cast also had to adapt when halfway through the show, their director Tom Jaeger stepped down, and previous director Josh Mccabe stepped in. The cast begins dress rehearsals next week, and will rehearsal every day until 9:00 p.m., perfecting the show for performance. The show will take place Friday and Saturday Nov. 13 & 14 at 7:00 p.m., at Williamstown Elementary School.