Day of the Dead Altars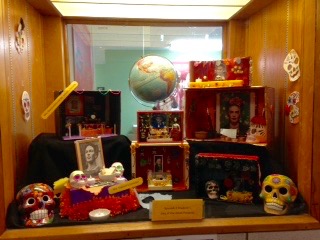 Hang on for a minute...we're trying to find some more stories you might like.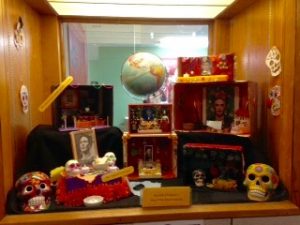 Students in Shannon Vigeant's Spanish II classes built Day of the Dead altars to celebrate the holiday on November 1 and 2. The altars are now exhibited in her classroom and in a display case in front of the main office. "As part of the learning we did about the Day of the Dead and the celebrating of our own in class, the students were assigned the project of creating their own altars," Vigeant said.
Traditionally, Mexican families build altars to honor their deceased every year for the Day of the Dead. On top of the altar, the living place offerings (ofrenda in Spanish), items that the spirits will enjoy when they come back to earth to visit the living. People try to lay out offerings (food, possessions etc.) that the dead enjoyed while alive, along with the traditional Day of the Dead items. These include candles to welcome back the dead, marigolds, the official holiday flower, and pan de muerto, "the bread of the dead." For their altars, the students could choose to recognize anyone from Mexico (dead or alive) or a deceased family member or friend.
Vigeant was pleased by the project's results. "I was so impressed by what people brought in, that I wanted to put some in the front display case," she said, "so then I had (Vice Principal) Jacob Schutz and (Principal) Mary MacDonald come in and choose their favorites to put in the case." The administrators selected six altars to exhibit in the case
Sophomore J Bath dedicated his altar to Mexican soccer star, Javier "Chicharito" Hernandez. Said Bath: "It was fun making an altar dedicated to soccer and things that Chicharito enjoys." The project was an interactive way for students to learn about a traditional Mexican holiday with growing popularity in the United States.