Mt. Greylock's Fall Shakespeare Play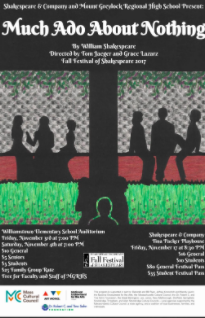 Hang on for a minute...we're trying to find some more stories you might like.
The annual fall Shakespeare play at Mt. Greylock is coming up! This year's production is Much Ado About Nothing, and it involves thirty-five Mt. Greylock students in grades seven through twelve in onstage and offstage roles. Auditions were held this year on September 13th, 14th, and 15th after school in the Mt. Greylock cafeteria. Students participated in a variety of games and text exercises. For the Shakespeare play, students do not know what play they will be performing until after they audition. After auditions, the team of directors decide what play to do based on the people who auditioned.
Students began rehearsals on September 20th. The rehearsal process began with an activity called dictionary work, where students look up the words that they have to say to understand their lines. Shakespeare's archaic language is only hard to understand when you do not know what it means. Looking up the words allows actors to connect with their characters and understand the reasons and emotions behind what they say. When the actors understand their text, it makes it much easier for the audience to follow the story.
After students "got off book," or memorized their lines, they worked on interacting with the other characters. Students learned to understand their relationship with all of the other characters in the world of the play, whether they be family, lifelong friends, acquaintances, or enemies. One very important character in every Shakespeare play is the audience. When speaking, students worked on connecting with the audience – looking them in the eye and including them in every scene. Other elements of the performance also began to come into play, and actors strategically incorporated props and movements into their scenes.
The final stage of the process is called tech week, which is October 29th through November 2nd. During this week, the company moves to Williamstown Elementary School, where the performances will be held, and transition all of the work done in rehearsal into the performance space. Students begin working with the set pieces, which include giant flowers, chandeliers, and wicker furniture, to name a few. Technical elements, such as lights and sound, are implemented for the first time. Beginning October 31st, students work in costumes. Tech week is the time to polish up all of the scenes, nail down lines by heart, and string the whole show together. Four late nights of rehearsal in one week not only prepare students to perform for the audience, but to perform with each other.
Students will perform Much Ado About Nothing at Williamstown Elementary School on November 3rd and 4th at 7:00. Two weeks later, on November 17th, they will take the performance to the Tina Packer Playhouse at Shakespeare & Company and perform it as part of the 29th annual Fall Festival of Shakespeare. This Festival runs November 16th through 19th and features ten performances of eight different Shakespeare plays by ten local high schools.
In Much Ado About Nothing, Don Pedro, the Prince of Arragon, comes to visit his good friend Leonato, bringing with him his friends Claudio and Benedick. Claudio falls in love with Leonato's daughter Hero, and Benedick engages in a battle of wits with Leonato's niece Beatrice. Plans are made for Claudio to marry Hero, but Don Pedro's half-brother Don John and his accomplices Conrade and Borachio are determined to stop the marriage, and they come up with a plan of their own. Don Pedro, Claudio, Leonato, and Hero meanwhile scheme to make Benedick and Beatrice fall in love. Do they? And do Claudio and Hero get married? You know I can't tell you. You will have to come and see for yourself.