Greylock Plays a Huge Success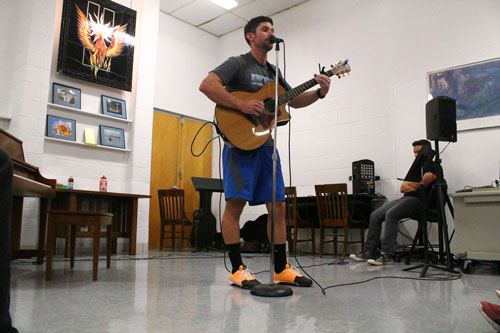 On Wednesday, October 22, students and faculty members came together to put on musical performances as part of the fourth installment of Greylock Plays. The meeting room was transformed into a showcase theater during block five so that students Laura Galib, Jack Hydon, Hannah Trimarchi, Eric Hirsch and Physical Education teacher Brandon Asplundh could demonstrate their talents in their respective instruments.
Galib and band conductor Lyndon Moors kicked off the event. With Galib playing the piano and Moors accompanying on the english horn, the duo performed an impeccable instrumental version of "Turning Tables" by Adele. Freshman Hannah Trimarchi followed that up with a cover of "Landslide" by Fleetwood Mac, reminiscent of the Dixie Chicks' version, showing prowess in both guitar and vocals. Senior Eric Hirsch came next with a masterful solo piano performance of Maroon 5's "Sunday Morning." All eyes were on the next performer, Brandon Asplundh, who started off with a beautiful rendition of "Home" by Jack Johnson. Asplundh then went on to play "Friday" by Rebecca Black. Most of the audience would agree that his performance was even greater than Rebecca Black's herself. Last but certainly not least came Jack Hydon, who demonstrated thirteen years of practice in both piano and vocals with his performance of "Say Something" by A Great Big World.
Started by musicians last year, Greylock Plays continues to bring students and faculty together to appreciate good music performed by talented musicians. Students should mark their calendars for the next version of Greylock Plays in December.