Interview with Jalyn Devadoss '19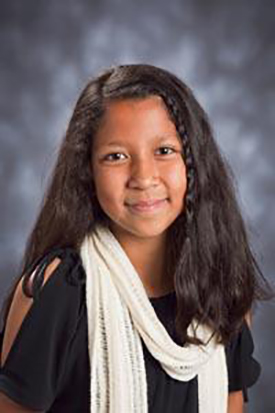 Hang on for a minute...we're trying to find some more stories you might like.
Eighth grader Jalyn Devadoss is a new student here at Mt. Greylock. Last year, she and her family went on a yearlong trip to California, and this year Devadoss transitioned from elementary school (Williamstown Elementary School) to Greylock. The Echo asked Devadoss about her trip to "The Golden State" and her transition to middle school.
Echo: Why were you in California?
Devadoss: My Dad works at Williams College, and he had his sabbatical last year, so we decided to go to Stanford, California. My dad was doing research [at Stanford University].
How long were you in California?
We were there for one year.
Had you been to California before?
A couple of years ago we went on sabbatical to Berkley for a year.
What's different about California compared to Williamstown?
Pretty much everything there is different from here; we only have a couple of restaurants in Williamstown. And there we lived in a big city; it had a more diverse culture.
Do you like city life better?
No, I like it here. There are some pros and cons, but I'm more comfortable here.
Did you go to public school?
Yeah. We lived in a city that was almost as big as Stanford, but I went to school in the big city.
Did you have to walk to school, or did you take the bus?
The school actually didn't have buses, which was really annoying, so we drove into the city every morning.
And you had to make a lot of new friends?
Yeah, it was hard at first. The first couple of days of school were a little tough because everyone knew each other, but I got used to it.
While you were there, what did you miss most about Williamstown?
The people…all my friends are here.
What was different about school there from Greylock?
They had just a middle school, so only grades 6, 7 and 8. There were about 200 kids per grade.
Wow, that's a lot of people!  Have you stayed in touch with your friends in California?
A couple of them. I email them, and I'm going to go back and visit them over February break.
Do like like Greylock better?
I like it better here. The environment is more friendly here, and  the work is a lot better, and it's easier to get around here.
Was the transition as an eighth grader difficult?
Yeah, it was a little bit difficult, but I had known everyone already, and my friends helped me a lot.
Do you participate in any sports or other activities with the school?
I run cross country in the fall, and I'm going to play tennis in the spring.
Did cross country help your changeover to MG?
Definitely. I got to meet a lot of people.
Did you do any sports in California?
I ran cross country over there, too. But they had a lot more people, and it's definitely better here. It's better rank-wise too; over there they're not very serious about it.
What is your favorite class right now?
Probably math class with Mr. Belouin. My dad is a math professor, and math has always been really fun for me.