New Radio Tower and Weather Station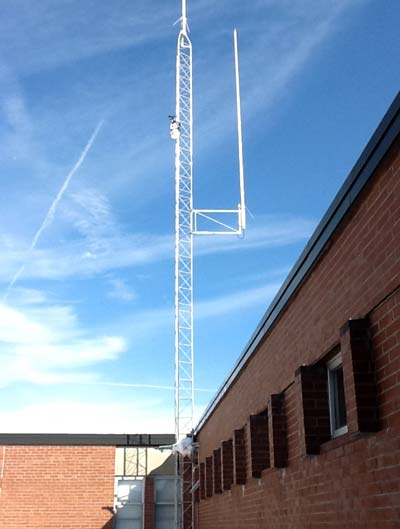 Hang on for a minute...we're trying to find some more stories you might like.
During the week of December 8, Pittsfield Communications, hired by the Williamstown Police and Fire Departments (WPD and WFD) finished building and installing a radio tower in the courtyard outside of the library. The radio repeater system is constructed of a cemented in metal pole supported by cement that is connected to the school building and has two antennas. In addition, coordinating with the WPD and WFD, the Williams' College Center for Environmental Studies installed a weather station near the top of the tower due to its high altitude and ability to record accurate data, which can be found under the MGRSD Today portion of the school website. The model of the weather station is the Davis Vantage View Pro2 Plus, and it includes many additional features besides temperature and humidity sensors, including a rain collector and UV sensor.  The radio tower, which is colloquially known as the repeater system,  was constructed here at Mt. Greylock for the same reason as the weather station in that it provides a good vantage point for radio communications for the south part of the town, which will allow for more efficient dispatch to emergencies from both the Police and Fire Departments. Audio Visual and Technology Director Rob Wnuk has said that the tower's placement, "enhances the safety of firefighters, police officers, the school and the residents of this part of town," making this new installment to our building one with great importance for our school and the larger community.