Congressman Neal Presents Art Award to Anya Sheldon '16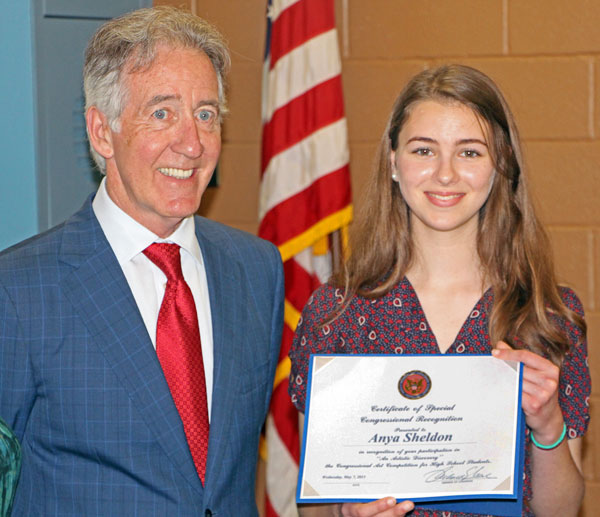 May 13, 2015
Filed under Arts
Hang on for a minute...we're trying to find some more stories you might like.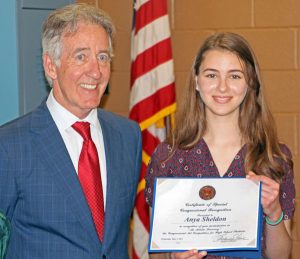 On May 11, Massachusetts Congressman Richard Neal visited Mt. Greylock to host a ceremony awarding one student, junior Anya Sheldon, for winning the 2015 Congressional Art Competition. After being toured around Greylock's art facilities and being introduced to some students, Congressman Neal was lead to the Meeting Room accompanied by his personal entourage and multiple journalists vying for photos and an interview. Commencing the ceremony, Neal spoke of the importance of art and creative students after being introduced by Visual Arts Teacher Jane-Ellen DeSomma where he praised Sheldon's work ethic and talent, congratulating her for her effort and ensuring that the audience comprised of staff members, students, family members, and other community members recognized how impressive this feat truly was. Sheldon's original acrylic painting "Quiet Ferocity", selected from 111 entries from 16 schools, will hang in the U.S Capitol Building in Washington DC for the next year along with other winning pieces from across the country.
After his short commemoration Sheldon was given an opportunity to say a few words, revealing her joy. "This is my passion. This is what makes me happy."
Following the ceremony, Congressman Richard Neal offered to stay for a few questions from the audience. Being well-versed in politics, Neal used his twenty-seven years of experience to give a civics lesson to the attending students where he touched on many topics as he stressed passion as a means of success and used one of his many anecdotes to reinforce his theme of the importance of supporting art. "Back in the worst days of the Great Depression, Franklin Roosevelt insisted that artists be paid."
Sheldon's quiet demeanor throughout the ceremony gave an opportunity to others to praise her with DeSomma insisting that Sheldon is a "renaissance woman" who should be seen as an example rather than an anomaly, expressing her pride by addressing the audience, "I think it's really important to understand that when someone turns out the level and the quality of work that Anya produces, you have to acknowledge the hundreds and hundreds of hours that have gone into this."
Noah Savage contributed to this article.