Promposals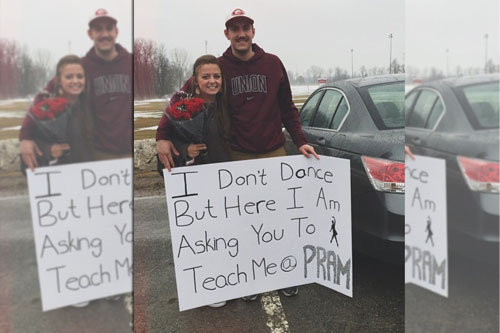 June 1, 2015
Filed under News
Hang on for a minute...we're trying to find some more stories you might like.
April showers bring May flowers and an exciting season of promposals. Types of promposals vary from public to private to goofy to romantic. Promposals have always been important to high schoolers, but these days promposals are especially significant.
Senior Jake Kobrin made the trip down to Miss Hall's Preparatory School in order to serenade his girlfriend, Emma Whittum, with a self composed song asking her to prom. Jake sings, as his twin brother, Sam Kobrin, backs him up on the guitar, and Emma's friends all swoon in the background.
Adding on to the creative method of promposals, junior Luc Park performed before Emma Culver, his girlfriend, at track practice. He, along with many other friends, danced for her to Beyonce's classic, "Love On Top". However, Luc being a junior, Emma the senior, he concluded his proposal by asking her, "Do you want to ask me to prom?"
A different but sweet approach used by senior Colby Masse was to go to his girlfriend, Sam MacWhinnie's house, and light 125 candles spelling out  "Prom?". Sam's friend, Rachyl Bazonski, got her out of her house one night then brought her back to this exciting surprise.
Senior Michael McCormack had a more private approach by surprising Kelsey Orpin after a weekend she spent out of town. He waited for her in her room with lots of balloons and a poster asking her to prom.
Similarly, Jesse Dilego asked Emily Sabin, a remarkable dancer, to prom with a poem on a poster. It read, "I don't dance, but here I am, asking you to teach me @ Pram."
Senior, Ryan Benoit, asked Miranda Voller, his girlfriend of 3 years, to Prom with a poster board that had photos portraying their entire relationship spelling out "Prom?"
Eric Hirsch, assisted by history teacher, Tom Ostheimer, asked Junior Holly Fisher to prom with Swedish fish and a sign that read, "Holly, you'd be the Swedest fish if you'd go to prom with me."
After many successful promposals this year, juniors should start thinking about how they will prompose around this time next year.