The Greylock Glance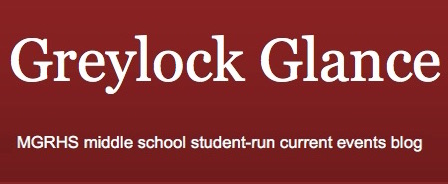 Hang on for a minute...we're trying to find some more stories you might like.
Three Mt. Greylock eighth graders, Maddy Art, Rose Gotlieb, and Owen Tucker- Smith write The Greylock Glance, a blog about current events. The three young bloggers published their first post on October 14, 2015, and since then, have posted a wide variety of opinions and stories about current events, including Middle East turmoils and the 2016 presidential election.
The idea for the blog originated out of necessity. Owen Tucker-Smith, one of the bloggers, said that "there was not enough current events for the middle school" and that needed to change. With the encouragement of Maddie Art's mother, the three eighth graders approached their history teacher, Mr. Blackman, and asked how best they could immerse their fellow middle schoolers in global happenings. An experienced blogger himself, Blackman suggested that the trio try a blog format, and so The Greylock Glance was born.
The stories on the website are both informative and short. "They need to be easy to read and not super long" said Rose Gotlieb, "because we need to keep the interest of middle schoolers." The Glance is designed to educate middle schoolers on current events through well-written, well-researched stories.
According to Gotlieb, "it can be hard to research at times, but we manage." The trio works diligently to put up content weekly on the website. "It's a fair amount of work" said Tucker-Smith, "but it's not hard and we enjoy it."
The Greylock Glance provides a quick and thorough synopsis of many current events and a friendly, local alternative to a large news site. If you want to visit The Greylock Glance, here is a link: