Mt. Greylock Hosts Class of 2022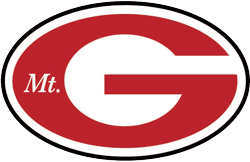 March 25, 2016
Filed under News
Hang on for a minute...we're trying to find some more stories you might like.
On March 17, incoming seventh graders and their parents attended an Orientation Night at Mt. Greylock. Parents participated in a panel discussion with question and answers about the school in the Meeting Room. The panel consisted of: Assistant Principal, Jacob Schutz; Middle School Guidance Counselor, P.J. Pannesco; Director of Athletics and Co-Curricular Activities, Lindsay VonHoltz; seventh grade English teacher, Liza Barrett; High School English teacher, Rebecca Tucker-Smith; and Debra McMahon, the Director of Pupil Services. Four current students were also on the panel: seventh grader Hazel Scullin, eighth grader Joe Jones, freshman Gio Cavalli, and senior Lilly Crolius.
The Peer Team hosted the Class of 2022 in the cafeteria where they played name games with future seventh graders to get to know each other and toured the building, while the National Honor Society provided babysitting and a movie for younger siblings who came to the Orientation Night with their families.
According to Pannesco, 110 adults and two thirds of the incoming seventh grade class attended the open house. "The goal of the evening was to present an overview of both the seventh grade program and the high school program," said Pannesco. "We want to make parents aware of the array of sports and co-curricular activities available at Mt. Greylock."