10th Annual Dodgeball Tournament Success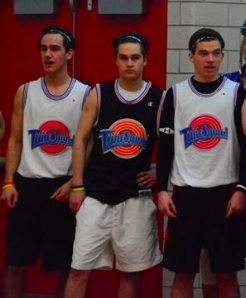 Hang on for a minute...we're trying to find some more stories you might like.
Another Mt. Greylock Dodgeball Tournament came and went last Friday, March 17.  The dodgeball tournament is a cherished tradition at Mt. Greylock, with this tournament being the 10th one in a row The dodgeball tournament is one of the more successful fundraisers at the school, with usually around 30 teams paying $30 each. Then 8th grader Kim Houston and her friends started the tournament in 2007 and it quickly became one of the most popular events at Mt. Greylock.
As it has been in past dodgeball tournaments, multiple teams were decked out in creative uniforms. A highlight was best costume winner, The Winds of Trade, which borrowed their costume theme from the team members' favorite board game Pirateer, dressing as a viking, pirates including a gypsy pirate, a sea captain, and an alchemist. The team's goofy costumes were just one of the many themed teams competing in the tournament.
This year, 2-Time Tune Squad took home the championship after a tight final match with Stay Woke. The game had stalled out with Tune Squad's Zach Condon and Stay Woke's David Falk the last two dodgeballers remaining for a while. Finally, Coach Jordan, the referee, decided to restart the match.  This time, both Zach and Brandon Condon were able to take down Falk for the championship win. 2-Time Tune Squad returned many of their senior players from last year's champion team, the Tune Squad, including both Condons, Pat Storie, and Reilly Parker. Two junior dodgeballers from Tune Squad, Sam Dils and Sean McCormack, were unable to attend this tournament so the team replaced them with Kyle Bazonski and Tommy Astle to make an all-senior team. Storie says that having only seniors "made it feel a little better as it was nice to go out there and play with guys in my grade." With 2-Time Tune Squad graduating, the championship is up for grabs next year.
The team members of 2-Time Tune Squad have been some of the most successful dodgeballers in the Mt. Greylock Dodgeball Tournament. Storie, the Condons, and Parker have been on two championship teams and a runner-up team and Astle and Bazonski joined them for one championship team. Storie says that he "will definitely miss the dodgeball tournament next year and definitely thinks [his team members] will miss it too." While 2-Time Tune Squad will miss the tournament, their closest competition surely relishes the opportunity for a new champion next year.