Seventh Graders Embrace Art, Positive Messages Through Curating a Culture of Respect Program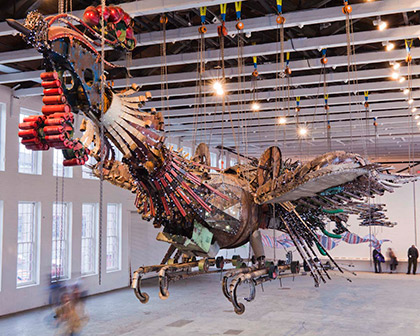 Starting from the very beginning, Mount Greylock encourages students to respect the human condition. This ideal is perhaps first manifested in the 7th grade in a project known as Curating a Culture of Respect (CCR). As the name implies, CCR strives to create an appreciation and understanding of how people express themselves. The students visit various museums such as The Clark, Williams College Museum of Art, and Mass MoCA and engage in various comprehension projects to cement the learning experience.
As teacher and manager of the project Mrs. Moore-Powers said, "we discuss possible interpretations of the artwork in relation to the human condition and even the message that the artist is trying to convey. Then in May/June, our students will create a piece of community artwork that conveys a message that the students want to send. Last year, each student painted a wooden doll with a message that was then left in place of their choosing for others to see/pick up and move to another location after logging the art with the hashtag #artmessengerproject." This year, 7th-grade students will be expected to create a piece of artwork that supports the general idea that "art can change the world" and place it within the community.
Moore-Powers hopes that students will, "step outside of themselves and realize that their actions can have a positive or negative effect on others. Hopefully, with that realization, they will choose to act in a way that promotes tolerance, kindness, and curate that culture of respect in our school."
Seventh grader Celina Savage said that CCR is "beneficial, however it is a little time-consuming." However, Savage noted that "we all have seen a difference with our peers since the beginning of school – we have created our own culture of respect in the seventh grade."
About the Contributor

Ava Simon, Staff Writer
Ava's sole purpose is to promote webcomics endlessly. She's sort of like a cult leader. She literally has a cork board with pictures of webcomics called...