Teens Staying in Touch
COVID-19 has completely uprooted our world and changed day to day lives. Now that Mount Greylock is fully remote and strict guidelines remain in place students have had to find new ways to see and connect with their friends. Although it is nice to have alone time, seeing friends and being social can positively affect mental health. 
When asked how she was feeling about the effects of the pandemic, sophomore Elena Caplinger said, "It might sound sad, but as long as I don't think about everything, I'm fine. As soon as I do, I'm overwhelmed. It's so easy to spiral but it's also easy to find distractions." 
"I miss hugging my friends so much," says junior Kate Swann. But, like many others both Caplinger and Swann have both found fun ways to bond with their friends. 
"I've mainly been zooming with friends, going on walks and meeting up masked and safe." Caplinger said. "Going on Zoom and talking or playing games has quickly become a tradition and I think it could continue past COVID. Obviously on Zoom there aren't any additional precautions to be taken, but when we are in person we are all masked and do our best to maintain distance. Even through that, it's still totally possible to have fun."
"I feel like my friends and I do a lot of different activities, but all of them revolve around seeing each other outdoors," said Swann. "I enjoy going for runs or walks with my friends because those offer great opportunities to stay safe but also talk together for a good amount of time. 
"Another great way to connect with my friends has been sitting around a fire because it helps with the cold winter weather. Also, if we sit around the fire outside the Williams Inn, we can also get something from tunnel city, and I can never resist a good muffin or hot chocolate," said Swann.
"Essentially everything is moved outside with a mask," said freshman Cedric Lemaire. "I am still spending time and connecting with friends during the pandemic by prioritizing what I love to do and finding a way to make the activity safe."
"I think my favorite place to go with my friends is Spring street because that is sort of the only place we can go. It is nice to walk around stores and then maybe impulsively buy something to do when I get back home. I mean I am supporting local businesses so I don't feel too bad about it!" remarks Kate Swann. "I have also been skiing at Jiminy Peak a few times and that was pretty fun as well! The chairlift is a great time to talk, especially if you take the slower, smaller one up to the top of west way!"
"As winter is really coming in, I think it has gotten harder to hangout because it is so cold, so I don't want to be outside for a really long time." 
Swann brings up a good point, but "There are a ton of fun COVID safe winter activities, especially if we have snow," said Lemaire. "Cross country and downhill skiing, sledding, hikes, and sitting by a fire are my top suggestions."
The pandemic has forced everyone to adapt. Caplinger said that when hanging out with friends, it is "in some ways very different, but in some ways, exactly the same. I think what's important is that seeing friends should feel the same as it would normally, and luckily safety doesn't get much in the way of that," she said. 
"I don't think it has been too hard to find safe things to do with friends because there was not much to do to begin with," says Swann, referring to Berkshire County's often sparse social scene. "I think the only thing is that we now can't get lunch or dinner in a restaurant, but there are still ways to safely eat together!" 
Zoom has become very popular when connecting with friends and family. "If you zoom with a friend you can screen share and watch a tv show or movie together and then you can talk during or afterwards rather than just chat!" Swann mentions. "I would also recommend picnics; they are so fun and you get to eat food and they are safe."
"Quiplash quickly became a classic for us," Caplinger said. "And it is so underrated just to go on a walk with someone!" 
Lemaire said, "Nordic skiing really hasn't changed drastically due to COVID which has been a fun outlet. I also love that I can still play pick-up soccer and mountain bike with friends."
During these stressful times, it is important to step away and hangout with friends. "Connecting with friends helps me reset and feel less isolated," says Lemaire. Swann added, "seeing my friends makes me feel so joyous! I talk a lot so it is nice to be able to do that and I would say it definitely relieves my stress." 
Caplinger said, "I don't know how I would be getting through without some way to connect."
About the Writer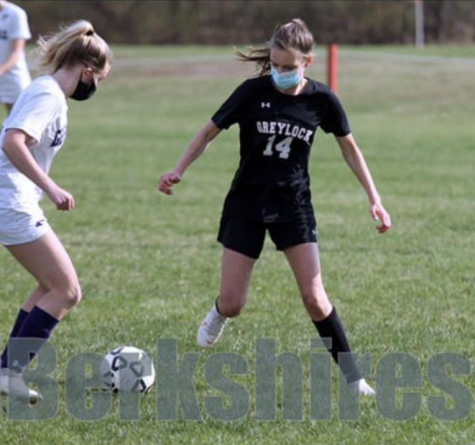 Lucy Igoe, Features Editor
Lucy loves to play soccer and run track. She also enjoys reading and writing and this is her second year on the Echo.